As the UK workforce returns to the office on a post festive period comedown, a new survey reveals what we really think of our bosses, and shockingly many respondents – akin to the plot of a popular Hollywood comedy 'Horrible Bosses' – actually imagine killing their boss.
The intriguing poll of over 2,200 people, by B2B online business services comparison site Expert Market, in conjunction with survey outfit Vivatic, found that 1 in 10 people have gone so far as to imagine murdering their boss, given workplace frustrations and relationship with their line manager.
Construction workers emerged as having the worst relationship with their line managers with nearly a quarter admitting to murderous thoughts (22%), followed closely by those working in the media industry (15%).
The mindset is straight out of the 2011 dark comedy movie Horrible Bosses, starring Jason Bateman, Charlie Day, Jason Sudeikis, Jennifer Aniston, Colin Farrell, Kevin Spacey, and Jamie Foxx.
It's plot follows three friends, played by Bateman, Day, and Sudeikis, who decide to murder their respective overbearing, bullying and abusive bosses, portrayed by Spacey, Aniston, and Farrell.
'Reel life' to real life?
Horrible Bosses turned out to be a hit and made $210m (£155m) at the box office worldwide by the end of its theatrical run; more than four times its production cost. It even spawned a 2014 sequel.
Away from outlandish and dangerous thoughts, the Expert Market survey also found that more than half of respondents (52%) said that they hate their job specifically because of their boss.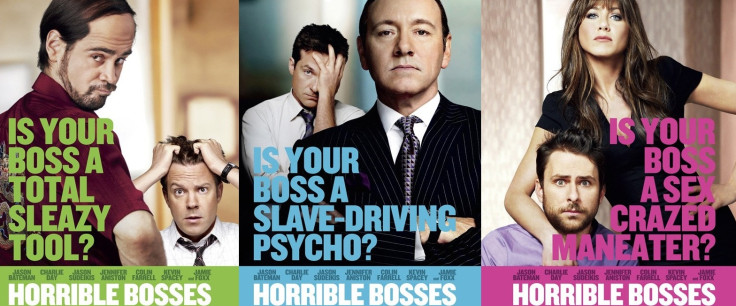 In fact, one in five workers said that they would actually turn down a pay rise in favour of firing their manager and it's because people think their boss is not fit for purpose.
The majority of those asked (73%) believe that they could do their boss' job far better than them, particularly those in the energy and entertainment industries; 86% and 81%, respectively.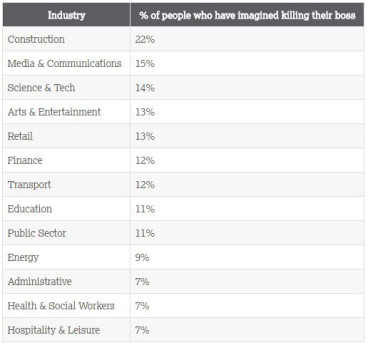 Retail workers were the most negative about their jobs with nearly a third saying they hate their jobs.
They were closely followed by more than a quarter (27%) of construction workers and 25% of those working in the public sector.
All in all, more than a third of people admitted that they dread going to work every day.
Furthermore, nearly 60% said they felt pressure to catch up on tasks during non-work hours.
A fifth of people even admitted to working 4 to 6 hours extra every week for free, with 1 in 10 working 7 to 9 hours extra with no additional pay, suggesting that employees are being overworked and underpaid for their efforts.
Disappointing interpersonal relationships with bosses were further highlighted when respondents were quizzed on day-to-day interactions with their seniors.
A costly affair
Nearly a quarter of respondents (23%) said they would ignore their boss in the street, nearly double (41%) say they avoid their boss at work events and nearly half (45%) say they would classify their boss as a control freak.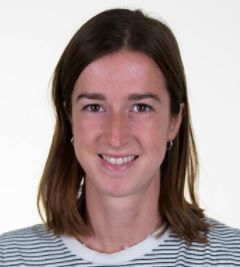 Other key factors for job dissatisfaction highlighted by the survey include 44%​ ​of​ ​respondents​ ​saying​ ​their​ ​bosses​ ​set​ ​them​ ​impossible​ ​tasks.
Half​ ​of​ ​respondents​ ​said​ ​they​ ​had​ ​taken​ ​the​ ​blame​ ​for​ ​their​ ​boss'​ ​mistakes, while 44%​ ​felt​ ​a​ ​lack​ ​of​ ​recognition​ ​from​ ​their​ ​boss.
Elsewhere in the survey, 45%​ of respondents​​ ​said​ ​they​ ​had​ ​been​ ​ignored​ ​by​ ​their​ ​boss and 48%​ ​said​ ​that​ ​their​ ​boss​ ​has​ ​claimed​ ​credit​ ​for​ ​their​ ​work.
Hannah Whitfield, lead researcher for the Expert Market survey, said the findings shed some light on why so many of us start off the New Year desperately on the hunt for a new job.
"The results are alarming to say the least. If 'horrible bosses' don't up their game, they could end up costing their companies thousands in hiring costs.
"The average cost of hiring a new employee in the UK has been calculated at a whopping £25,181, and rises each year. Employees are said to leave bosses, not companies - so our survey paints a rather bleak picture for certain industries."