House of Cards actress Robin Wright has joked that Donald Trump has "stolen all our ideas" ahead of the show's sixth season – making reference to the often chaotic nature of his presidency.
The Netflix original show stars Kevin Spacey as the protagonist Frank Underwood, a ruthless and sometimes psychotic US president who will stop at nothing on his path to conquering Washington.
There have now been suggestions that the fictional programme is now too believable due to the real-life drama that is currently unfolding in the present day White House.
Wright said: "Trump has stolen all of our ideas for season 6. I don't know what we're going to do – seriously!"
She admitted to not being Trump's number one fan, claiming "I've got to see the hope somewhere", adding "Oh my God we have four years of this."
The Forrest Gump star, who believes Michelle Obama would be an ideal female president, likened her own character to a Shakespearean villain.
"She's Lady Macbeth to Richard III. Her approach is very different than her husband's. He's more effusive while she prefers to sit back and wait to strike.
"You realize she's just as fierce and evil, she just doesn't have to talk so much. She's the best of both sexes."
Wright has directed five episode of House of Cards following a promise by pilot director and producer David Fincher to make her character Claire Underwood the equal to Spacey's Frank.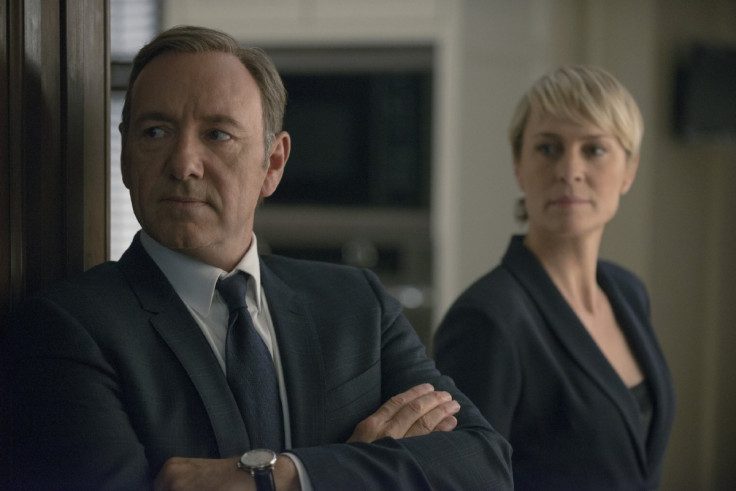 She took up a well-documented issue with TV bosses over her salary, which was reportedly much lower than Spacey's, despite their sharing of screen time, and has now reportedly acquired a similar pay package.
She claims feminism has been a crucial factor in gaining the equality she desired on set, but hit out at suggestions that such desires could be seen in a negative light.
"Feminism today has become such a derogatory or diva-like word. Feminism means equality - period. Equal work, equal pay."
She feels girl power also plays a huge part in her upcoming movie Wonder Woman, which will be the first female superhero movie to debut in decades.
"The message of this movie (Wonder Woman) is not just female empowerment – it's about love and justice and what a great message to spread to our little ones."