Whilst attending a Rockefeller Foundation event in New York, Robin Wright revealed that she threatened Netflix, producer of House Of Cards, that she would go public with the disparate pay rates paid to her and star Kevin Spacey. The 56-year-old plays her calculating husband, Frank on the show.
At the time of filming, in 2015, she was reportedly earning $420,000 an episode, while Spacey was earning $500,000.
"I was like, 'I want to be paid the same as Kevin,'" she said in an interview with the Rockefeller Foundation's Judith Rodin. " I was looking at the statistics and Claire Underwood's character was more popular than [Frank's] for a period of time. So I capitalized on it. I was like, 'You better pay me or I'm going to go public.'"
The actress has directed several episodes of the series and was recently elevated to executive producer on House of Cards, which began its fourth season in March.
Wright is one of a number of women who have been speaking out about the gender pay disparity in Hollywood — and other industries - including the likes of actress Jennifer Lawrence and Emma Watson.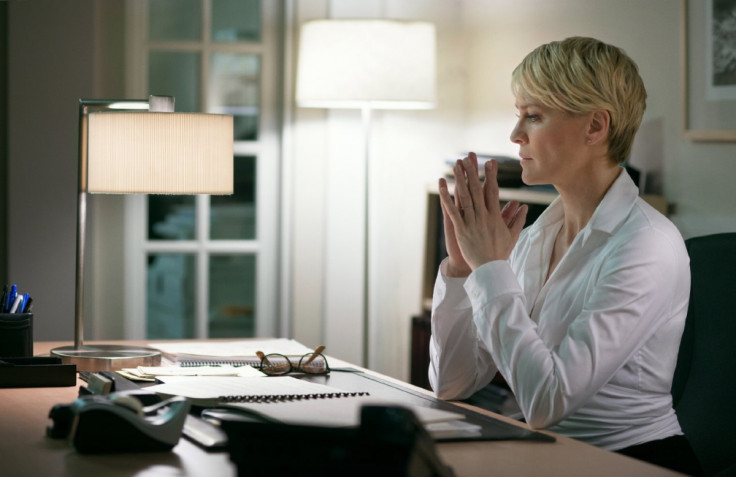 Wright said she had a particular battle, like all working mothers, because she lost ground in the pay race by cutting back on acting while raising her two children with now ex-husband Sean Penn.
"Because I wasn't working full time, I wasn't building my salary bracket," she explained.
"If you don't build that ... with notoriety and presence, you're not in the game anymore. You become a B-list actor. You're not box office material," she said. "You don't hold the value you would have held if you had done four movies a year like Nicole Kidman and Cate Blanchett did during the time I was raising my kids.
"Now I'm kind of on a comeback at 50 years old."