A former Conservative Party activist has said that the House of Commons "never followed up" her claim that she was raped by a senior party official.
Amanda* told the Victoria Derbyshire programme that she had been raped by someone who was working for a Conservative MP.
She said she had lodged a complaint with the Commons clerk and asked authorities to raise concerns about the "toxic" culture in Westminster with senior Tories, but claims her complaints were ignored.
"I was raped by someone senior to me in the Conservative Party. It was violent. It wasn't in Westminster, it was in my own home," Amanda said on the programme.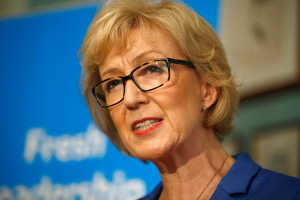 "And it shouldn't have happened. I remember the attack, during the attack. I remember the room disappearing around me and thinking I was going to die.
"When he left the next day I was at the police station within an hour and I reported it."
While she waited for her trial date, Amanda decided to report the incident to Commons officials. She told them that she felt Westminster's "heavy-drinking and sex-driven" culture had contributed to the assault.
Amanda said that she left the conversation believing her complaint would be passed onto the then Chief Whip Gavin Williamson and Commons leader Andrea Leadsom.
Leadsom said on Monday (6 November) that she had never been told about the claim. As the sexual harassment allegations against MPs continue to mount, Leadsom has vowed the government will take a "zero-tolerance approach."
"I never received contact from either of them. The parliamentary authorities never followed it up with me either. I heard nothing," Amanda said.
A parliamentary spokesperson confirmed that a conversation took place between Amanda and Common clerk David Natzler. The spokesperson said: "There was no question of formally 'referring' the allegations to other House authorities as there was already a criminal case underway. We understand that the charges have recently been dropped by the Crown Prosecution Service."
"In the course of a 25 minute conversation, the individual concerned gave the Clerk some helpful personal insights based on her view on aspects of the culture and attitudes within certain parts of the parliamentary community. These were informally reported onwards and are being acted upon in various ways," the spokesperson added.
Amanda said the entire incident left her feeling "worthless" and as if her "experience wasn't important and that the experiences of others who had who had had similar things happen to them weren't important either."
On Sunday (5 November), Home Secretary Amber Rudd said Westminster is facing a "watershed moment" as the allegations of sexual misconduct continue to rise.
"We should hold ourselves to a higher standard," Rudd told Sky News, but she denied that the government is on the brink of collapse.
"I think it is something that will take place, in terms of clearing out Westminster of that sort of behaviour, and Westminster, including the government, will be better off after it. It will be a positive thing," she said.
*Name changed to protect identity.