As the sex abuse claims against MPs continue to mount, Home Secretary Amber Rudd has said Westminster is facing a "watershed moment."
Her comments came after a new allegation against Theresa May's deputy, Damian Green surfaced.
Bob Quick, a former assistant commissioner at the Metropolitan police, told The Sunday Times that "extreme pornography" was discovered on Green's computer during an inquiry into government leaks in 2008.
Green has firmly denied the accusation, describing Quick as a "discredited police officer" who was intent on carrying out an "unscrupulous character assassination".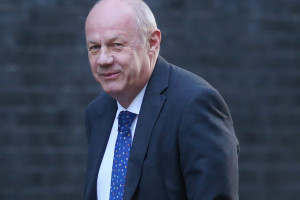 "This is a watershed moment in Westminster. We should hold ourselves to a higher standard," Rudd told Sky News when asked about the mounting sex abuse claims, including the allegation that Tory MP Stephen Crabb sent sexually explicit messages to a 19-year-old girl.
Defence Secretary Michael Fallon resigned earlier this week after broadcaster Julia Hartley-Brewer claimed that he repeatedly touched her knee during the Conservative Party conference in 2012. Political journalist Jane Merrick revealed in The Observer that Fallon had "lunged" at her after they had lunch together in Westminster 14 years ago.
Despite referring to the allegations as a "watershed moment" for Westminster, Rudd denied that the government is on the verge of collapse. She said the ongoing inquiry into Green had been widened to investigate the new allegations.
Rudd told Andrew Marr that the scandal does not threaten to break up May's administration. "I think it is something that will take place, in terms of clearing out Westminster of that sort of behaviour, and Westminster, including the government, will be better off after it. It will be a positive thing," she said.
The Home Secretary earlier told Sky that it would be wrong for the government to have a "knee-jerk reaction based on the allegations last week".