Sebastian Gorka's days at the White House as President Donald Trump's national security adviser may be numbered.
House Democrats on Tuesday (2 May) called on the president to oust Gorka for his reported ties to anti-Semitic groups in Hungary. The letter comes on the heels of reports that Gorka may be moved to a different role in the administration.
"As members of the US Congress who care deeply about fighting anti-Semitism at home and abroad, we urge you to immediately dismiss senior White House counter-terrorism adviser Sebastian Gorka," the letter states.
"Based on recent revelations about Mr Gorka's public support for and membership in several anti-Semitic and racist groups in Hungary, he is clearly unfit to serve in any position of responsibility in your administration."
According to USA Today, Gorka's alleged ties to anti-Semitic groups have been an issue for the adviser. A March report by the Jewish Daily Forward claimed Gorka was an official member of Vitézi Rend, a group listed as an organisation under the direction of Nazi Germany during World War II by the State Department.
If the London-born Gorka failed to disclose any association with the Vitézi Rend, he may be eligible for deportation, Mic reported. Despite calls for his resignation, Gorka denied links to the group.
The Forward also reported on a video showing Gorka showing support for the Hungarian militia group known as the Magyar Garda. The sect, which was disbanded in 2008, has been known to refer to Jews as "locusts," "nation destroyers" and "Zionist rats," Mic reported.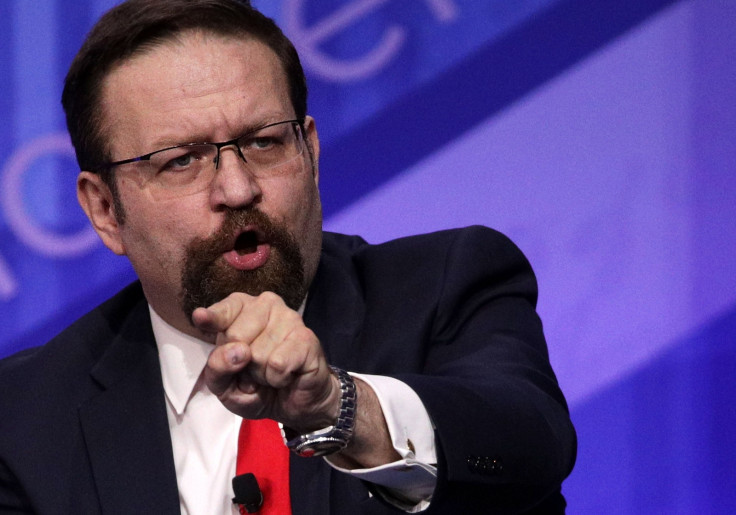 Over the weekend, several news outlets reported that Gorka would be leaving the White House to take up a new roll in the administration. However, White House Press Secretary Sean Spicer disputed those reports on Monday (1 May), telling reporters that he had "no belief that [Gorka] is currently leaving the White House at this time".
However, Democrats' letter to Trump have made it clear that many in Congress do not want Gorka to have any role in the administration. "Mr Gorka's associations with these groups are deeply troubling," the letter says. "We urge you to fire him immediately, and to make clear that you condemn all forms of anti-Semitism and intolerance without our country and abroad."
Gorka, meanwhile, appears adamant about remaining in his position at the White House. When asked by CNBC's Eamon Javers if he was being forced out, Gorka responded: "Do I look like I'm going?"