Who is Sebastian Gorka? Trump's terrorism adviser who has been called Islamophobic
Former editor at far-right Breitbart News, Gorka is now a senior official in the White House
Sebastian Gorka, a deputy assistant to the US President on Donald Trump's National Security Council who has staunchly defended the so-called "Muslim ban", has repeatedly come under fire this week.
A former editor at the far-right website Breitbart News who, alongside Stephen Bannon, was propelled into the White House after Trump's inauguration, has been criticised for wearing the medal of Vitezi Rend – an anti-Semitic Hungarian organisation that collaborated with the Nazis during World War II – and for allegedly expressing Islamophobic views.
The academic, who has slammed the mass media for producing what he calls "fake news", was appointed to the White House on the National Security Council for his reported expertise in defence and terrorism.
But his credentials have been attacked this week by other experts, such as Michael S Smith II – the founder of the counter-terrorism thinktank Kronos Advisory, who has served as a counter-terrorism adviser to members of the US Congress – who took to Twitter to lambast Gorka.
In response, the UK-born 46-year-old of Hungarian descent threatened legal action against Smith. A telephone call of his threats was published by Newsweek.
Who is Sebastian Gorka?
Born in London in 1970, Gorka is the son of Pál (Paul) Gorka who fled Communist-era Hungary in 1956 after being tortured and imprisoned.
The young Gorka attended St Benedict's School in Ealing, West London, and received a 2:2 Bachelor of Arts degree in Philosophy and Theology from University of London's Heythrop College. He joined the British Territorial Army – part of the UK's reservist military force – while at university.
In 1992 Gorka moved to Hungary, where he worked for the Hungarian Ministry of Defence and began studying for a master's degree in international relations and diplomacy at Corvinus University.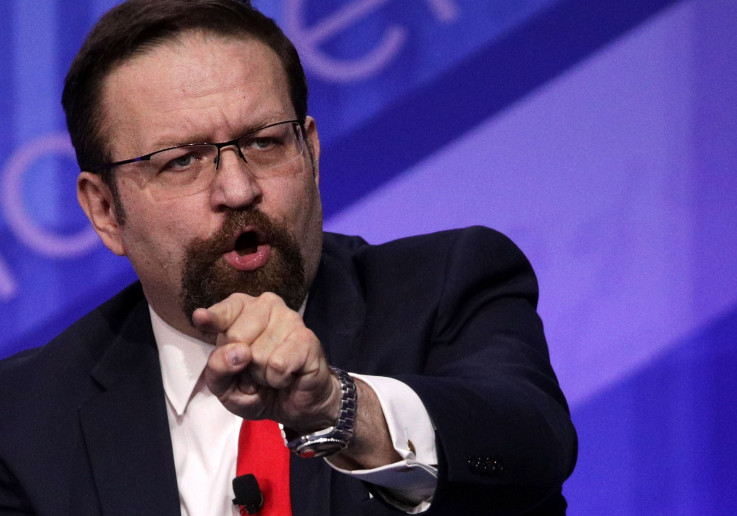 Deputy assistant to President Trump Sebastian Gorka participates in a discussion during CPAC 2017
Alex Wong/Getty Images
In 1998 he served as an adviser to Hungarian Prime Minister Viktor Orbán, who became the second youngest prime minister of Hungary, at the age of 35. Under the rule of the hard-line Orbán, Hungary has become a nationalist state.
In 2007, Gorka completed a PhD in political science with a dissertation on the strategic differences between the politically motivated terrorism of the Cold War and religiously motivated terrorists, such as al-Qaeda.
Then in 2008, Gorka moved to the US, becoming an American citizen in 2012.
Gorka has been part of the US initiative for the Program for Terrorism and Security Studies (PTSS) and offered expert opinion to prosecutors in the Dzhokhar Tsarnaev Boston Marathon bombing trial.
The program's director, James Howcroft, a retired Marine colonel, told Politico that Gorka only "periodically delivered lectures or served as a seminar leader".
Gorka also worked at the College of International Security Affairs (CISA), a Pentagon-funded school that is still working toward accreditation, The Washington Post reported.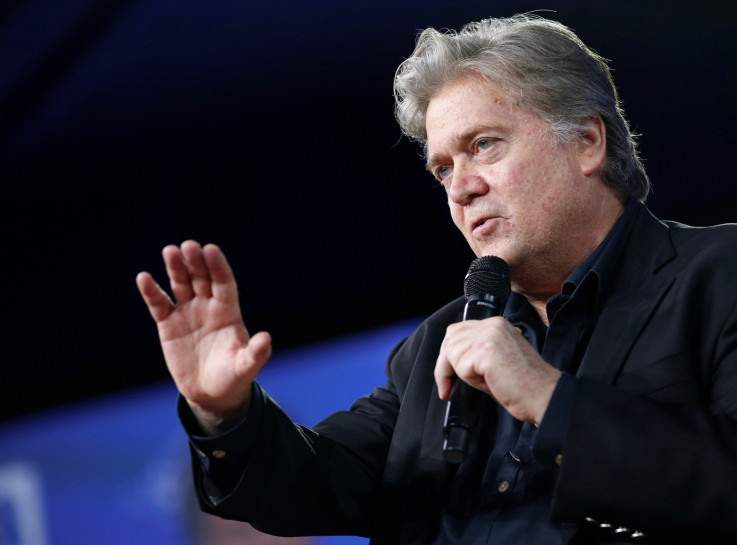 White House Chief Strategist Stephen Bannon speaks at the CPAC 2017 conference
REUTERS/Joshua Roberts
In 2014, Gorka joined far-right website Breitbart News, where Steve Bannon, now chief strategist in the Trump administration, was editor-in-chief and Gorka was national security affairs editor.
Anti-Semitism controversy
At an inaugural ball attended by Trump, Gorka was spotted wearing a military medal associated with Hungarian Nazi sympathisers.
A report by LobeLog said he was wearing a medal associated with the Vitezi Rend – the Hungarian 'Order of Heroes'. The order consisted of supporters of Miklos Horthy, the former ruler of Hungary, who collaborated with the Nazis during World War II. The US State Department lists the group as having been controlled by Nazi Germany.
Gorka defended wearing the medal, saying it was given to his father in 1979 as a decoration for resisting the Communist dictatorship that ruled Hungary at the time, and he wore it to memorialise the suffering his family endured.
Gorka's credentials for his security adviser role have been criticised in feature articles in The Washington Post.
One critic, Cindy Storer, a leading former CIA expert on the relationship between religious extremism and terrorism said in the Post: "He thinks the government and intelligence agencies don't know anything about radicalization, but the government knows a lot and thinks he's nuts."
They followed the publication of a series of articles questioning his credentials and experience as a counter-terrorism expert:
Gorka's views on Islam and what he terms the "global jihadist movement", have been labelled as extremist by terrorism expert Michael S Smith II on Twitter, as well as the New York Times.
On Tuesday, 21 February, Smith tweeted that Gorka "doesn't know the enemies' ideologies well enough to combat them".
And in an earlier tweet directed at Trump, Smith wrote: "You are endangering the lives of Americans by hiring fake 'terrorism experts'."
This led to Gorka calling Smith to allegedly threaten legal action against him. The phone call was published in its entirety by Newsweek.
Gun in luggage
In January 2016 Gorka was arrested for trying to pass through a checkpoint at Reagan National Airport in Washington DC for allegedly carrying a loaded handgun. He was charged with a misdemeanour and sentenced to six months probation, according to the Wall Street Journal.