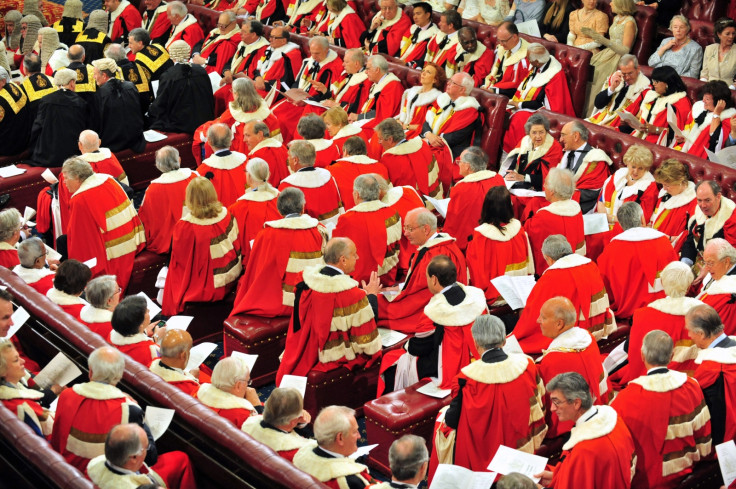 Peers in the House of Lords who have not voted during the past five years have claimed £360,000 in expenses during the last parliament, according to new research. They took home £100,000 of that in the last parliamentary session alone, according to new research.
The report by the Electoral Reform Society (ERC) found that a small number of peers were not voting, but still claiming allowances. The 10 members of the upper chamber cost the public £236,000 between them.
As part of the House of Lords' rules, peers are allowed to claim £300 for each day they attend the house. However, there is no requirement for them to vote on new laws or amendments on laws already in the statute book. The report pointed out that David Cameron's plans for an addition 50 peers would cost at least £1.3m per year.
The survey also found that more than a third of Lords had previously worked in politics – compared to less than 1% of the British public – creating what the ERC referred to as a "chamber of professional politicians". "Our House of Lords looks nothing like the public whose decisions it impacts – almost half live in London or the South East, while there are just two peers under the age of 40. This is a shockingly out of date and unrepresentative institution," the ERC said in a statement. In comparison 54% of peers in the House of Lords are more than 70 years-old.
It also uncovered that non-partisan crossbench peers turn up far less frequently than party political peers, and that party political representatives tended to vote as a bloc, with Labour voting against the last coalition government and Conservative peers voting against the last Labour government more often than not.
"The prime minister said he 'regrets' not reforming the second house in the last parliament. It's time for him to act – and finally fix our broken upper chamber," the ERC concluded.