How China's Black Monday could affect global economies
After the Chinese stock market suffered its biggest one day loss since 2007, plummeting 8.5%, the country's media have dubbed today "Black Monday". The ripple effect has been felt across the globe, with indices nosediving one after the other.
The FTSE 100 fell below the 6,000 mark for the first time since 2013, and Japan's Nikkei, the German DAX and France's CAC all followed suit in recording heavy losses.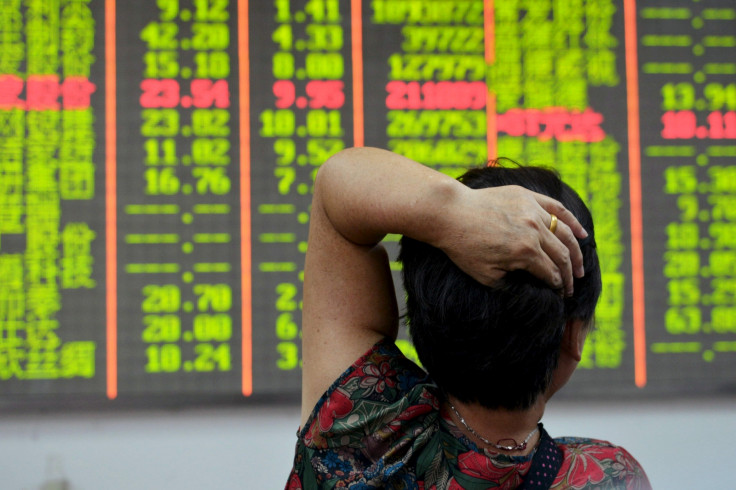 The Shanghai Composite lost gains made in 2015, plunging 8.5%.
Reuters
Why is this happening?
Slowing growth in the world's second largest economy has been spooking investors since the beginning of the year, which has contributed to the loss.
China is targeting growth of 7% in 2015, down from 7.4% in 2014, as the country attempts to move from an export-led economy to one more focused on consumer spending. However, there are now worries it will fail to hit forecasts and economic data come in weaker.
Earlier in 2015, investors signalled their concern about the slowdown by embarking on a selling frenzy that wiped out more than 30% – some $3tn (£1.9tn, €2.7tn) – of China's equity market value in one month. The Chinese government has responded by injecting billions into blue chip stocks, permitting its state pension fund to invest in domestic shares for the first time and by devaluing its currency in a bid to boost exports.
But none of these actions appears to have had the desired effect. Instead, the reaction from investors has been to sell off stocks, causing bourses around the globe to plummet.
Jim Reid of Deutsche Bank said: "This morning's rout in Asia comes after hopes that more government support in China could be around the corner, although the lack of any state intervention first thing this morning is seemingly exaggerating the pain in markets."
Commodities have been among the worst fallers, with fears that a slowdown in China will curtail demand for oil and metals. Numerous companies are starting to report falling sales and some experts are even warning of a global recession linked to events in China.
Economist Ian Campbell said: "The world now looks saturated with Chinese exports, there is over-capacity in export industry and bubbles have formed in Chinese assets. The authorities' willingness to prevent the Chinese stock bubble from popping by empowering a state agency to pour money into the market also looks a mistake."
Repercussions
In the near term, the decision on a US interest rate rise, which had widely expected to take place in September, could be put on ice. Reid added: "We always thought something would get in the way of the Fed raising rates in September and we're perhaps seeing this now. With 24 days to go until we find out, the probability of a hike has gone down to 34% from a 54% recent peak on August 9."
In the UK, the Conservative government has made a point of trying to ramp up trade with China, and stuttering growth is going to do nothing to help British exports to the country. A number of UK firms, such as Burberry, Ted Baker and Jaguar, do lots of business in China, so could also be hit.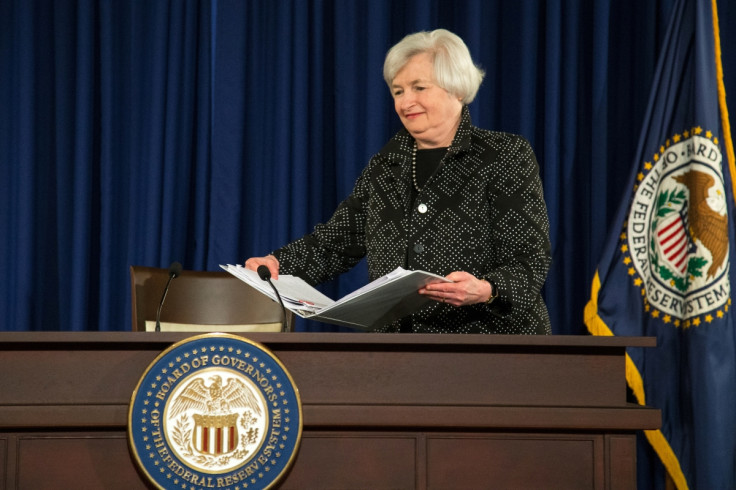 US Federal Reserve Chair Janet Yellen may have to rethink a rate hike
Reuters
From a Europe-wide perspective, some analysts are referring to China as "the next Greece". Elwin de Groot, senior eurozone strategist at Rabobank, said: "If 'China' becomes the next 'Greece' [metaphorically speaking] for Europe, then the main risk is that uncertainty about the global outlook will cause businesses to hold back investment plans, thus dampening the recovery in domestic demand."
A number of emerging market economies whose fortunes are tied to China's are also perceived to be at risk. According to research from NN Investment Partners, the extent of capital flight out of emerging markets has risen to $1tn over the past 13 months, double the amount that left during the financial crisis. Economies that count China as a first or second largest export partner include Australia, New Zealand, Brazil, Indonesia, Malaysia and South Africa.
"Many of these are producers of commodities of which China is the largest global consumer. The current supply gluts in commodities such as oil, iron ore, coal and dairy has already blown a harsh wind over the economies of commodity producing countries, in particular those in the developing world," according to Jane Foley, senior currency strategist at Rabobank.
Campbell said that further yuan devaluations represent a "big threat" for emerging markets.
He said: "The adjustment China faces will have an impact across emerging economies, many of which share some of China's vulnerabilities.
"Further Chinese devaluations are seen as a big threat. If China makes itself cheaper, other economies' exports may suffer. Comparisons are being made with 1994, when China devalued shortly before crisis swept across Asia.
"The emerging carnage looks like continuing for some time, until growth revives. But investors in developed economies cannot afford to look on smugly. Here too markets are distorted and vulnerable."
Figures from the World Trade Organization show China imported $123bn worth of goods from the US in 2013, $194bn from Japan, and $211bn from the eurozone. China is the second-largest economy in the world – it contributed 38% to global growth in 2014 – so when its growth slows, so does the rest of the world's.
Campbell added: "China's economy needs to rebalance, and as part of that the bubbles must be allowed to burst."
© Copyright IBTimes 2023. All rights reserved.