Kate Middleton opened up about her husband Prince William's initial struggles with parenthood during her visit to Hornsey Road Children's Centre on Tuesday (14 November).
The 35-year-old Duchess of Cambridge – who is expecting her third child in April – revealed that her husband of six years had to adjust to their new life following the birth of Prince George.
Looking resplendent in a recycled £600 cream A-line coat by Goat teamed with black tights and high boots, Kate spoke to parents and children at the engagement and explained how everything wasn't always perfect for the famous family.
She told single dad Billy – who is raising seven-month daughter Violet alone – that the Duke of Cambridge wasn't quite sure what to do when he became a father for the first time.
He said: "She was saying William was sort of similar and I just wanted to let her know how Family Action have been there for me and I think they need more support."
Kate also took the time to speak to mothers and their children during the event as she appeared in high spirits, evidently over the worst of her acute morning sickness.
Royal commentator Richard Fitzwilliams told IBTimes UK: "This is obviously intended to comfort the fathers who struggle with parenthood but whose problems are often ignored."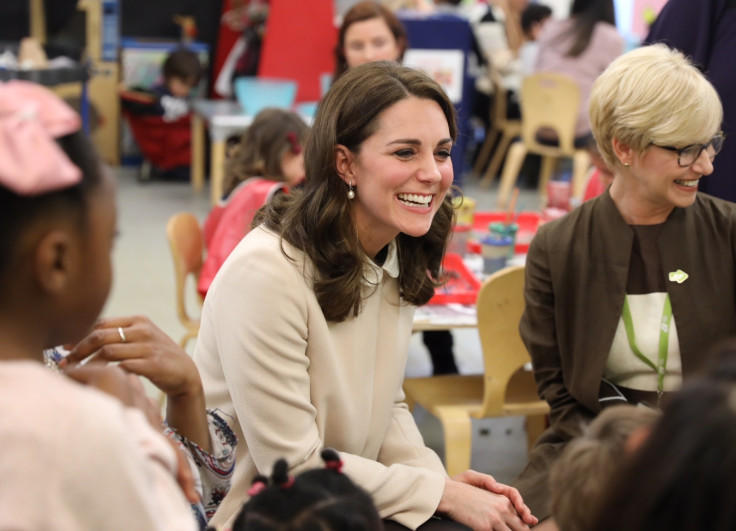 "Obviously, William was better prepared when Charlotte was born and as we know Kate is due to give birth in April next year so they must enjoy parenthood despite Kate suffering again from acute morning sickness," he added.
Fitzwilliams pointed out that Kate, William and his brother Prince Harry have all been more vocal than past royals about their personal lives and issues surrounding mental health, which is inspired by the late Diana, Princess of Wales.
He continued: "Kate has also spoken about its challenges which affected her confidence, the younger royals are being far more outspoken about various forms of trauma and mental illness to help sufferers. She had a happy childhood, and William was fortunate that both Charles and Diana – despite the nightmare of their marriage – were both good parents. But it is Diana's memory that has clearly inspired them to speak out on issues such as these."