There is some great news for avid fans of WhatsApp, as it is now possible to send and receive WhatsApp messages remotely via Windows PC or Mac, using a smart little app called AirDroid 3.
AirDroid 3 enables remote access to your Android device via PC or Mac by employing the AirMirror service, which requires your device to be pre-rooted else it will not work.
Pre-requisites
Download AirDroid 3 desktop client for Windows PC or Mac from here.
You also need an Android device with AirDroid installed on it (download it from here).
Steps to enable WhatsApp remote access on Windows PC or Mac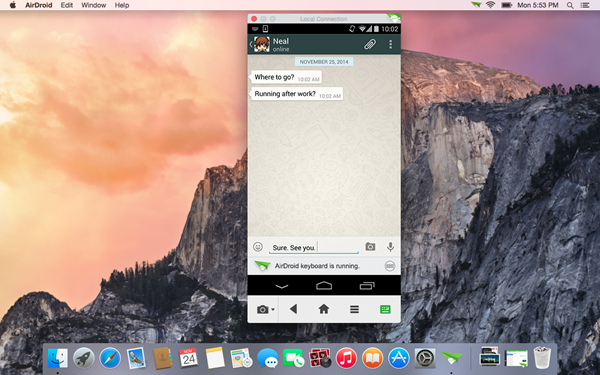 Download and install AirDroid 3 desktop client for Windows PC or Mac and then sign in with username and password for your AirDroid account.
Note: If you are new to AirDroid, just hit the Sign up button at the bottom of the page to create a new account.
Then download and launch the AirDroid app on your Android device, and sign in with the same account details that you used for the desktop app.
After signing into your device, AirDroid notifies you that a device has been successfully connected to your PC or Mac, wherein the notification message should pop-up on your desktop computer.
You need to enable Notification Mirror on your Android phone when prompted by AirDroid: Go to Settings > Notification and enable AirDroid Notification Mirror service.
Once the AirDroid Notification Mirror service is enabled on your Android device, all incoming notifications including WhatsApp will be redirected to your Mac or PC.
Tip #1: You can respond to an incoming WhatsApp message by simply clicking on the notification message, wherein the windowed clone of your Android device portraying the WhatsApp interface will appear on your Mac or PC.
Tip #2: To enter a text message, just type it on your desktop keyboard or use the mouse to add special characters and emoticons, and voila... the reply will be sent to the designated person in a moment.
[Source: Redmond Pie]