Do you want free apps? Well, you now have an alternative to malware-ridden third-party app stores. It's possible to completely bypass Google Play and download certain popular apps for free on your Android device using the Amazon Underground app.
The Amazon Underground app store, launched in August 2015, is part of Amazon's plan to challenge well-established iOS and Android app stores iTunes and Google Play with a completely different pricing model.
Rather than charging users a one-time fee to download an app and then offering in-app upgrades and items for purchase, the internet giant instead allows Kindle Fire tablet users to download certain popular apps completely for free – and they will never, ever need to pay for any in-app purchases.
The developers of these apps still get paid, but instead Amazon remunerates them depending on how much time users spend in these apps. Although Amazon Underground's share of the app marketplace is still tiny, apparently this novel approach is working.
According to Wired, Amazon says that since Amazon Underground launched in August 2015, royalties paid to the developers on the "Actually Free" programme have gone up by 3,600%, as well as growing 50% between December 2015 and January 2016.
Bypassing Google Play to download expensive paid apps for free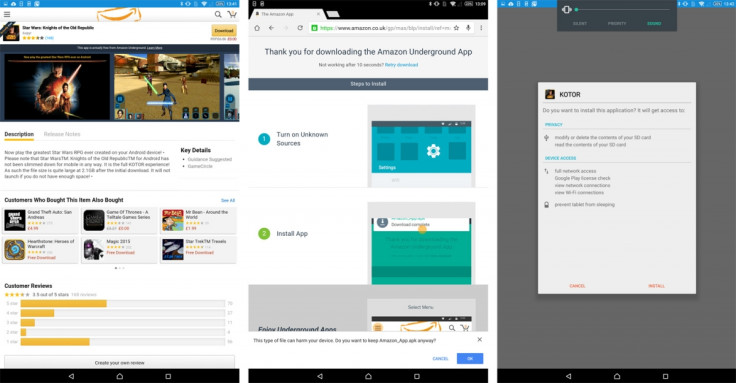 According to Amazon, it is now offering over $20,000 (£14,000) in apps, games and in-app items completely for free. While this doesn't mean everything is for free, some familiar favourites including Fruit Ninja, Sonic Dash, Star Wars: Knights of the Old Republic (KOTOR), Cut the Rope and Frozen Free Fall are part of the offer.
Amazon's decision makes sense if the internet retail giant wants to entice more consumers into the Amazon ecosystem, and IBTimes UK has verified that these apps do all indeed work and are completely free.
But what is more interesting is the fact that if you have a bit of patience, you can follow several steps clearly listed on the Amazon website to install the Amazon Underground app on your Android tablet, and then, rather than paying Google £7.78 for the Star Wars KOTOR game, just choose to download it for free from Amazon.
App worked just fine, but took a while to download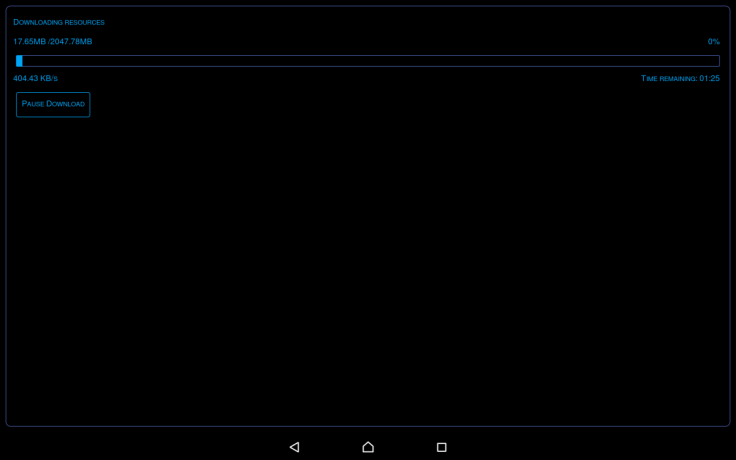 We tried it out ourselves, and we found the process relatively straightforward. Following Amazon's instructions, we were guided to download the Amazon Underground app onto our Android tablet as an .apk file, and then change the settings on the tablet to accept apps from an unknown location.
Once we did that, we were able to select apps from the Amazon Underground app store and a very simple download interface appeared. The only thing that differed in our experience was that while the Star wars KOTOR game app took two minutes to download on the Kindle Fire tablet, it took about two hours to download the same app from within the Amazon Underground app – so perhaps app traffic is being throttled.
However, once the app was downloaded, it appeared alongside all our regular apps from the Google Play app store, and best of all, it was indeed completely free to play and downloaded in its entirety with all functions enabled.
This is an interesting strategy for Amazon to entice Android users over to its app store. Of course, due to Apple sandboxing, it doesn't work for iOS users. Still, we can't image that Google will be too impressed, and we have asked the internet giant for comment on this issue.