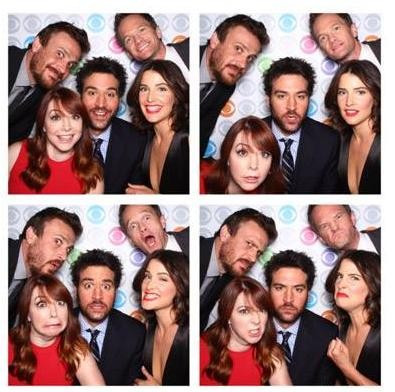 Things seem to be getting wrapped up on the How I Met Your Mother front. After the final script being written and a very emotional first reading with the cast, the show's inevitable end is coming closer.
Filming for the show's hugely-awaited final scene is over, according to a tweet by HIMYM co-creator Craig Thomas on February 20th.
Today we also shot what will be the final scene of #HIMYM. (Weird to do that on day 3 of a 6-day shoot! Hard to process!)

— Craig Thomas (@HimymCraig) February 20, 2014
This is definitely a big deal for fans and the cast and crew of HIMYM considering the massive hype surrounding the show's finale.
Bay told E! News in an earlier interview: "I think it'll be a fantastic series finale. The series finale is kind of why we've done the show all along and whenever we do get to do that finale, we're very excited about it because I think it's going to be really heartbreaking, and sweet and wonderful."
Moving forward down of the road of 'firsts of last', Thomas and co-creator Carter Bays tweeted about Jason Segel (Marshall) shooting his last scene for the series tonight:
Jason Segel's last #HIMYM scene tonight. It has been an honor to work with a man so talented and kind. We are lucky. — Craig Thomas (@HimymCraig) February 22, 2014
Just wrapped Jason Segel. There is no truer gentleman. Boy, did we hit the jackpot with him. Godspeed Marshall.

— Carter Bays (@CarterBays) February 22, 2014
Even Josh Radnor posted a tweet for his on-screen best bro:
I love Jason Segel — Josh Radnor (@JoshRadnor) February 22, 2014
With just five more days of shooting left, one can imagine what the cast and crew of the popular, series which started in 2005, must be going through.
Oh crap, I'm making everyone sad -- sorry! It's just emotional up in here, y'all! (We love you!) #HIMYM

— Craig Thomas (@HimymCraig) February 20, 2014
Things are gettin real on the HIMYM set. #fivemoreshootingdays — Josh Radnor (@JoshRadnor) February 20, 2014
The comedy series is scheduled to return from a short break on February 24 with Episode 18 titled "Rally" while the two-part finale episode "Last Forever" is set to air on March 31.
Watch the cast of How I Met Your Mother talk about the show's finale on the Late Show With David Letterman below: