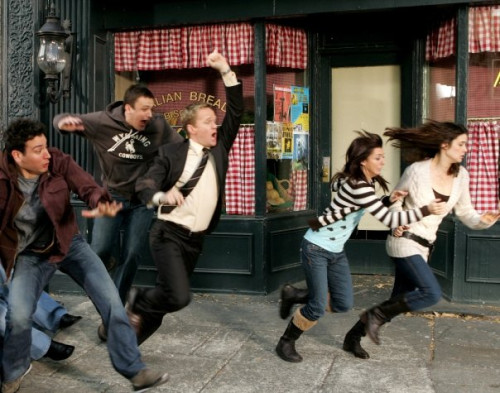 The countdown to How I Met Your Mother series finale started on Monday (20 January) when episode 15 (titled Unpause) of the ninth and last season was aired.
The big revelation in the episode was the names of Ted's kids - Penny (because Ted collects pennies) and Luke (Ted's a huge Star Wars fan), reports Zap2it.
The other big highlight of the episode was Lily and Marshall's big fight over him taking a judgeship in New York without telling her. The fight does not end well, with Lily getting into a black Limo and leaving.
The upcoming episode which airs on 27 Januray will be the 200th episode of the series. Titled How Your Mother Met Me, it is a Cristin Milioti special and unfolds from the 'Mother's' perspective.
According to HIMYM co-creator Craig Thomas, Milioti deserves an Emmy for her 'must-watch performance' in that one.
Also, as the finale draws closer (31 March), Thomas and co-creator Carter Bays shared with Zap2it the list of guest stars who are set to feature in the upcoming episodes:
Bays and Thomas disclosed recently that they filmed key scenes related to the series' ending almost eight years back primarily because it involved the 'kids'. The makers did so as they feared that the actors would become unrecognisable over the duration of the show.
However, Bays says had HIMYM been canceled in its first season, he and Thomas were ready to commit to a different ending:
"I don't even know if we ever consciously said this out loud, but I would imagine we both kind of agreed," Bays says. "Ted meeting Victoria happened at the end of episode 12 ... and I think there was a feeling of, like, God forbid the show just gets yanked, it would have been Victoria, probably."