In 1990, a terrified 13-year old MacDella Cooper fled Liberia for neighbouring Ivory Coast at the height of Liberia's 14 years of brutal civil war.
Last month, the former refugee declared her ambition for Liberia's 2017 presidential elections, on a Union of Liberian Democrats (ULD) ticket.
IBTimes UK met the woman hoping to become Liberia's second ever female president, after current President Ellen Johnson Sirleaf – in a vote she believes will show whether the West African country is ready to move forward, or is doomed to "reliving the ugly past that ended in 2003".
Fearing that failures to alleviate current social-economic problems, which she says compounded the civil war at the end of the 1980s, Cooper warns Liberia could be sent into a new downward spiral of deepening poverty and rising violence.
"A lot of times, individuals who suggest themselves as potential leaders in our country use propaganda that are not productive for Liberia's future. At some point, we have to stop the vicious cycles including ethnic and tribal differences that really distract people from focusing on moving our country forward. During the war, they turned every tribe against each other. We know the tactics. I choose not to be a part of that discussion," the mother of three told IBTimes UK.
When she returned to her homeland a decade ago, the philanthropist, who until recently ran the MacDella Cooper Foundation, was appalled to see children forced to look for food on top of landfills.
"When I saw how much my nation was practising human rights abuses by having leadership that fails to acknowledge or provide basic access to its people, I decided to step in – either as a humanitarian or a politician," she explained. "I want to build a country which focuses on ensuring basic human rights for the citizens, then we'll go beyond that by providing jobs. The government has to ensure it has a policy for food security in the country to make sure children and their parents don't have to go to garbage piles to rummage for food."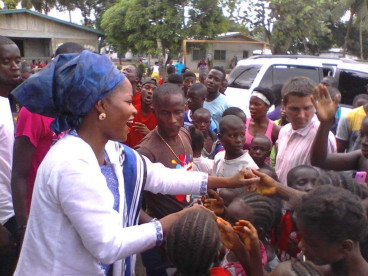 To revamp Liberia's post-Ebola economy, Cooper says the $555.9m (£447.1m) national budget for 2016/2017 needs turning around, by slashing high salaries to government officials.
"Young people are still on the streets trying to figure out where their first or only meal of the day is going to come from. Yet, we still have a chosen few in leadership who are getting paid over 50% of our national budget. Our government is by far Liberia's highest employer."
While she acknowledges that the Ebola outbreak set back her country, Cooper repeatedly looks up to neighbour Ghana's GDP roughly 25 times that of Liberia's. "Ghana was in the same condition as Liberia years back but has recently revamped its economy, and is now a major magnet for investment, while Liberia is avoided like the plague."
Her country still relies greatly on foreign aid. "We can no longer run our country on donors' funds, and build our national institutions on charitable dollars," Cooper says adding that leaders should take better advantage of the nation's vast natural resources. "Our GDP is what it is because we purchase so many goods from outside. But if we could focus on managing our resources, we could change this. Our timber concessions alone yield to about $50m annually, but only $5m of this is being reported. What happened to the other $45m remains a mystery. $45m can do a lot to our healthcare and education systems."
Highlighting how tourism in Ghana helped the local economy, by contributing GHS2.62bn (£585.7m; $727m) to Ghana's GDP in 2013 (3% of the total, according to World Travel and Tourism Council), Cooper says Liberia also has the means to become a credible tourist destination, with facilities such as the renowned Hotel Africa in Monrovia. "Since the late 1950s under President William Tubman, we had been surviving on our extractive industry [iron ore, gold, diamond]. But it is not sufficient. We have other industries that we need to maximise such as our fisheries, tourism with beachfront properties and resorts."
Highlighting Rwanda's post 1994 Genocide's economic success this time, Cooper says: "President Paul Kagame has done a fantastic job in a matter of 18 years, moving his country far and developing a middle-class. Rwanda is a model nation for me. If, like him, we invest in our country and speak the international language, investors are more likely to come and invest in Liberia."
Creating jobs is essential, not only to boost the economy, but also to ensure Liberian society remains united. Indeed, Cooper explained, high unemployment now means that around 90% of Liberian households are left with females as sole breadwinners. In this context, breaking the vicious poverty cycle needs to start with providing opportunities for women. "We can fight for women's rights all we want but if we are not providing access and resources, women will still be left behind. Right now in Liberia, abandoned women are the backbone of society."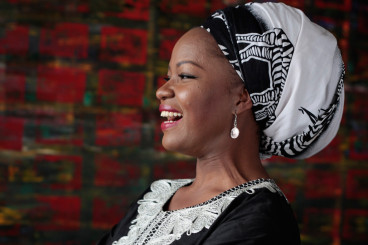 They may carry Liberia on their shoulders, but women still face death during childbirth because of an ailing healthcare system, very limited education as an option for their children, and an economy that Cooper says does not serve them.
"Women are told they shouldn't complain because they were given a female president. Mrs Sirleaf has done what she could. She has sustained 12 years of peace, but because she had to focus on sustaining that peace, she could not concentrate on other areas. But we are no longer talking war."
With the UN peacekeeping mission in Liberia (UNMIL) handing over security responsibility to national forces, Cooper believes the next government should see to it that the nation's military and police are paid adequately to ensure security and woo investors.
But Cooper's liberal discourse has been bedevilled. Commenting on a 2015 speech in which she said she had enough money to buy any political position and had no interest in any political seat in Liberia, Cooper says her words were taken out of context. Her remarks were instead a rejection of the political status quo in the country, she explains.
"We are 4.2m people and between 65% and 70% are people below the age of 35. The youth are the vast majority of the population, but they are being brainwashed by politicians promoting negative ideology about what leadership looks like, and why another woman should not be in leadership."
Speaking about the resistance she faces from the older generation about her progressive views, Cooper said: "When I talk about these things, other politicians would rather I did not do that. I was warned that Liberia's traditional politics were scary, dishonest. But I believe politics are that way because it means that the good people are compelled to stay out of it. Unfortunately, I am fearless and able to step into any arena as long as it is to serve my country."
The former refugee goes further, and describes receiving threats. "Of course, people say and write horrible things about me. But at the end of the day, no matter how much slander is written or said about MacDella Cooper, I am not here for my own benefit, I am over myself. I don't have an ego that needs boosting. I am here to focus on one thing: to bring progress, resources, build international relationships with investors so that we can put Liberia on a road for investments."
To electors, Cooper says she insists on saying: "I'm not coming in this space as a woman. I'm a candidate first, that happens to be a woman. If I need to fight, I will fight like a man." The electoral campaign period is expected to start by July-end 2017, with the general elections set for 10 October 2017.