Lord Myners' report into the Co-operative Group has suggested some good ideas for how to secure a healthy future for the British institution.
It is important to remember that he has first-hand experience of the serious governance issues it faces.
But his ideas fail to deal with the core problems that exist there, and they don't sufficiently answer a key question: where does the Co-operative Group go next if is to survive and eventually prosper?
A look back at the history of the Co-op Group, and similar challenges it has faced before, provides some answers.
I believe there are four things which need to happen now if it is to turn things round, and address not just the governance point but its business model and its significant debt pile.
Restoring Trust
Firstly, it needs to radically revive its membership-driven Mission, restoring trust in the Co-op Group by offering both a 21st Century benefits package and participation for members in a "real" democracy.
It needs to be a Mission that is visibly manifested in the actual corporate governance mechanisms of the Group.
Secondly, it also needs to restructure its corporate governance, providing the checks and balances on executive management that are sadly lacking at present.
The Myners report uncovered serious and systemic governance weaknesses in areas like board appointment processes, as well as strategic misjudgements and a lack of board member expertise.
All of this has contributed to a reduction in performance.
Furthermore, recent CEOs have focused too heavily on aggressive acquisition as a way of building the Co-op Group.
Radical Changes Needed
Thirdly, and most radically, it needs to dissolve the current Co-op Group and create separate co-operative societies to own and run the respective commercial fields in which the Co-op Group is involved.
This will improve governance, an issue highlighted by outgoing Chief Executive Euan Sutherland. However this occurs, new arrangements are needed to secure a better balance between executive management and lay representation.
The recent situation whereby the Co-op Bank's board was nominated almost entirely by the Group should never happen again.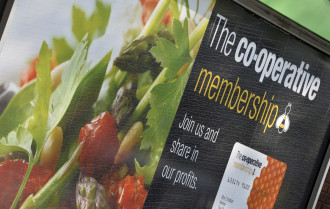 And fourthly, in order to restore trust in the ailing business, the Co-operative Group needs to develop a 21st Century Membership Package that gives consumers something tangible by which to associate themselves with the consumer co-operative.
This may manifest itself in a restructuring of the commercial focus of the Group, away from food retailing and towards new areas like legal services, housing, social and health care, and educational services.
These are areas where state funding cuts are likely to continue for the foreseeable future, so there is an opportunity for member-beneficial opportunities like this to bridge the gap.
These steps all add up to what is undoubtedly a radical and challenging cultural and commercial revolution. But it needs to happen.
If it does, and it is successful, it would spark a revival not just of the Co-operative Group but also the British co-operative movement more widely.
If it doesn't, there is a real danger that the Co-op Group may never recover.
Professor John Wilson is the Director of Newcastle University Business School and co-authored the book, Building Co-operation: A Business History of The Co-operative Group, 1863-2013, published last year by Oxford University Press.