When US credit reporting giant Equifax was hacked, it left the personal records of more than 140 million Americans exposed. Now, for those seeking swift justice, a chatbot app may hold the answer – by helping impacted victims to generate legal forms needed to take action.
The bot – dubbed "DoNotPay" – is aimed at those going through small claims courts, which, depending on US state, can provide damages of between $2,500 and $25,000. As noted by The Verge, this means some victims won't have to pay lawyers for costly legal advice.
"I am looking forward to helping you fight corporate incompetence," the chatbot app states after ingesting personal details to generate the necessary forms.
The application – which was first launched across 50 states in July this year to help victims fight back against parking tickets – is set against a bright blue screen brandishing the title: "I am a bot to automatically sue Equifax". It goes on to ask a series of questions.
Ultimately, it needs your full name, phone number, street number and house number, city of complaint and a zip code before generating a PDF link to the papers.
It has three main sections at the time of writing – New York, California and Other States.
The bot's creator, Joshua Browder, was reportedly among those impacted in the hack, which exposed the credit card numbers of about 209,000 US consumers. "I hope that my product will replace lawyers, and, with enough success, bankrupt Equifax," he told The Verge.
But it may not be as easy as that.
Alleged victims will be given the forms but will still have to file them in a claims court and show up to later debate their case. Nevertheless, the online application piles yet more pressure on Equifax following the filing of a separate class action lawsuit.
The credit company is headquartered in Atlanta, Georgia.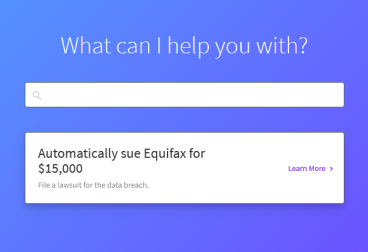 It first disclosed news of the cyberattack on 7 September (Thursday), revealing that it took place between May and July earlier this year.
The company also confirmed that hackers were able to access some "limited personal information" of British and Canadian residents.
"This is clearly a disappointing event for our company, and one that strikes at the heart of who we are and what we do," Equifax CEO Richard Smith said in a statement.
"I apologise to consumers and our business customers for the concern and frustration this causes."
The company was initially publicising a website where people could check if their personal information was stolen by the cybercriminals – but this was later found to be susceptible to hacking thanks to a number of security flaws that could be exploited to expose personal data.
Equifax was widely criticised for waiting more than a month before reporting the breach.
A video showing the bot in action was uploaded to YouTube by Browder on 11 September and, perhaps understandably, many users voiced concerns about where their data was being stored after being inputted into the bot application. See the full process in action below: