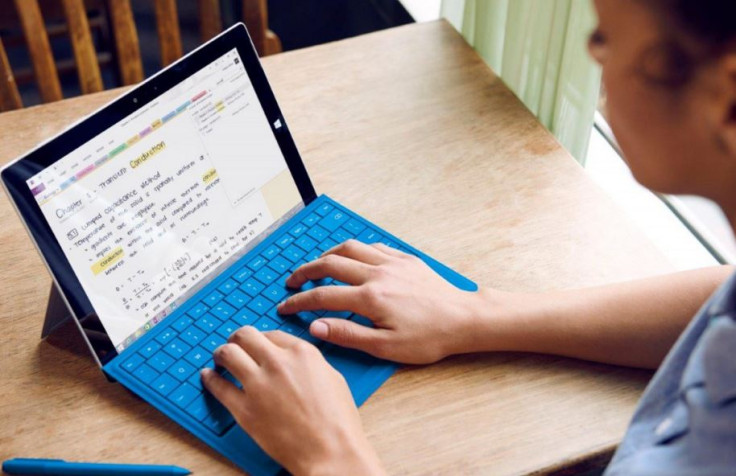 Taking notes on your Surface tablet is another way you can interact with your Windows 10 running device. Whether its a quick note or a long story, everything can be done by typing, writing by hand and even dictation. Besides, with the new Windows version, your Surface tablet is capable of collecting and assessing your handwriting and voice to improve the character recognition, and thereby provide you with a personalised user dictionary and text-completion suggestions. Following are a few tips to help you take notes on your Surface devices.
Keyboard
Usually typing is the easiest way to take notes. The Surface devices such as Surface 3, Surface Pro 3 or Surface Pro 4, you can attach the Type Cover and start typing. If you own a Surface Book, ensure that the display is locked into the keyboard.
To get the best typing experience on your Surface Pro, use new Surface Pro 4 Type Cover or Surface Pro 4 Type Cover with Fingerprint ID. The Surface Pro 4 Type Cover is compatible with Surface Pro 3.
To start typing on your Surface, swipe in from the right side of the Surface screen to open the Action Centre and select OneNote. Alternatively, you can tap the Windows icon to open the Start Menu and then click on OneNote, which is the digital note-taking app that comes pre-installed with Windows 10, to open it. You can access the notes that you have taken using the OneNote on any device that has this app pre-installed.
Otherwise if you have a Surface Pen, click the eraser button on it to launch the OneNote. To take screenshot of your Surface screen, just double click the eraser button.
Surface Pen
Prior to taking Note using the Surface Pen, you will need to configure it. For this go to Settings on your Surface tablet, then open Device and select Pen. Now you can choose either right or left hand. You can also take hand-drawn notes on the web pages in Microsoft Edge browser or with Windows 10, or, if you have update your device to Windows 10 November update, you can hand-write reminders into Cortana.
OneNote 2013 and OneNote 2016
If you have installed OneNote 2013 or OneNote 2016, you can convert lengthy notes you have written using the Surface Pen to text. For this, select the handwritten note or the portion of it you want then tap on the Ink to Text option in the Draw section of the toolbar. You would see the selected handwriting will convert to text. You have option to make corrections and edit.
Windows Journal
In case you don't have OneNote 2013 or 2016, you can use Windows Journal app, which is available for free in the Windows Accessories folder in the app list of your device.
Once you have the handwritten note, tap the Selection Tool button on the Tool Bar and draw a line around the handwriting you want to convert. Then tap the Actions menu and select Convert Handwriting to Text.
Dictation
Using the built-in Windows Speech Recognition software in Windows 10, you can control apps and dictate notes with your voice: select Windows Speech Recognition in the Windows Ease of Access folder in the app list.
Once you are done with the wizard set-up, a tutorial will guide you through the voice recognition and train your Surface device to recognise your voice. Head over to the official Windows blog to know more about the tips to take note on your Surface.