When calling the marketing suite of Clissold Quarter, a new apartment development in Stoke Newington, north London, potential buyers of the £750,000 two-beds are initially disappointed by the lack of a show flat. "But," the salesperson interjects before they hang up, "why don't you come and view the apartment through our virtual reality headset?" An appointment is made.
There is much more to virtual reality than gaming. VR headsets like the Samsung Gear VR, HTC Vive and Oculus Rift might have taken video games into a new dimension, but myriad practical uses in everything from healthcare to real estate will be where VR stands to make the biggest impact.
Higgins Homes is, it claims, the first property developer in the UK to offer a VR tour instead of a show flat. The tour has been created by VMI Studio, a London company specialising in computer generated images of properties yet to be built.
By feeding 360-degree images into the Unreal video game engine, VMI has created a virtual apartment which can be explored like the level of a video game.
Potential buyers visiting Higgins Homes are handed an Xbox 360 controller and encouraged to explore the flat on a wall-mounted TV. Every wall, floor, fixture and fitting of every room is recreated, as well as the balcony, and through headphones the sound of passing traffic is simulated.
Fergus Byrne, director of VMI Studio, told IBTimes UK how, in a future version of the platform, potential buyer's will be able to customise almost every aspect of the property. They will be able to change the carpets, the wallpaper, the artwork and even map out where their furniture will sit. Byrne said adding a night-time view from the balcony is also possible, using a drone to take the photos before the complex is built.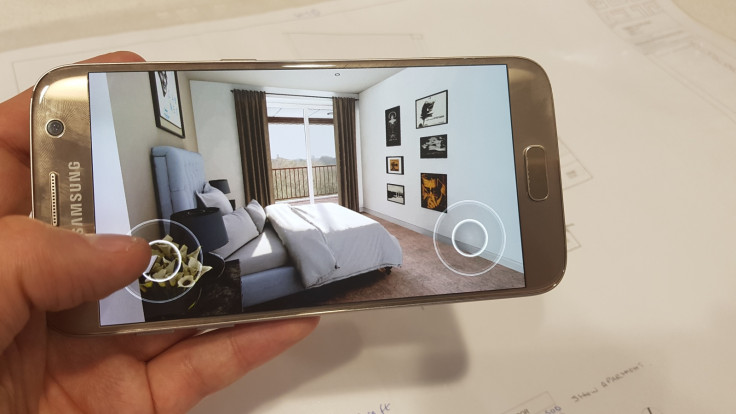 Jeremy Marcus, sales and marketing director of Higgins Homes, told IBTimes UK he was "absolutely amazed by what was possible," and explained how a six-month delay in building the show flat was turned into an opportunity by installing the virtual sales suite.
After viewing the apartment as a photo-realistic video game, we then strapped on an Oculus Rift headset to explore in VR. The image sharpness takes a hit because of the Rift's lower resolution, but instantly the experience feels much more real; you still need the Xbox controller to move forwards and backwards, but looking around is now down by turning your head.
It may seem obvious, but the experience felt real. Everything is the right scale, you feel like you are at the right height relative to the floor and ceiling, and studying the rooms feels completely natural. To further improve this, Byrne says the software can be used on the HTC Vive, a VR headset which lets you walk around environments without using a controller.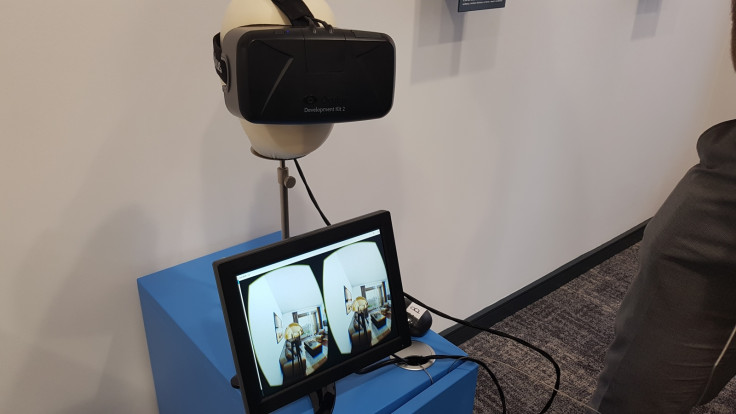 The apartment walk-throughs can also be loaded onto a Samsung smartphone then shown on a Gear VR headset. Requiring no wires or computer, unlike the Oculus Rift, the Gear VR can be used to sell property to overseas clients; previously, Higgins Homes would precariously ship a handmade model of the entire apartment complex to the prospective buyer. Loading up a VR walk-through makes this much simpler and eliminates all risks of the one-off model being lost or broken.
Sales staff at Higgins Homes say the VR experience creates a much stronger memory in customers' minds than static images and a floor plan, the latter of which can be difficult for inexperienced first-time buyers to get their heads around.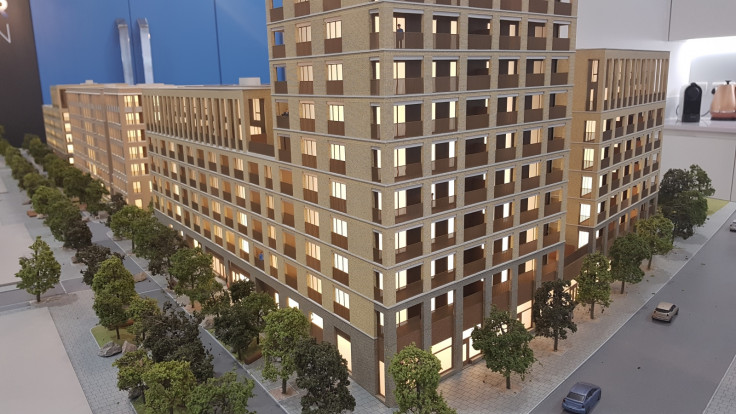 Research into VR gaming, especially horror games full of jump-scares, has found that memories of VR experiences are far more vivid than those of content viewed on a screen. Higgins Homes agree, saying their VR system helps visitors remember the apartment more clearly than when they look at images, models and floor plans.
Both Higgins Homes and VMI Studios already both have plans for improving the experience, while Marcus is already keen to use VR to show off new properties as much as possible. "Now we've found this technology, we will be rolling it out time and time again."