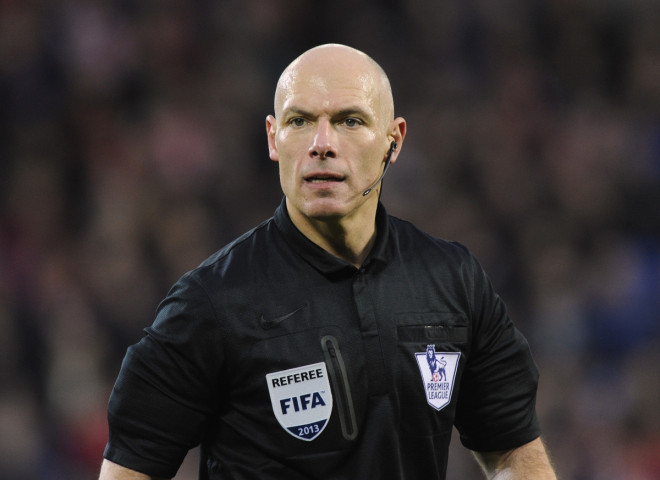 Referee Howard Webb has earned a reprieve from the Premier League despite criticism from Liverpool manager Brendan Rodgers following the refusal to award his side a second penalty in the FA Cup fifth round defeat to Arsenal.
The 2010 World Cup final official, who is shortlisted for this summer's finals in Brazil will take charge of Cardiff City's home game against Hull City this weekend despite failing to award the Reds a second spot-kick after Luis Suarez was felled by Alex Oxlade-Chamberlain.
Arsenal went on to reach the quarter-final with a 2-1 win at the Emirates Stadium, dumping Liverpool out of the competition and forcing the Merseysiders to concentrate solely on cementing qualification for the Champions League.
The Premier League are prone to dropping referees for fixtures following high-profile mistakes however Webb will continue to officiate this weekend despite Rodgers' scathing criticism.
"I thought that was quite an easy decision for the ref," Rodgers said. "Luis has a touch, gets around him and it looks a blatant penalty.
"We're bitterly disappointed to have not got that because then it just keeps our momentum going for the final stages of the game.
"For me, it's gone. You can't change it, you can't affect it. I'll speak to an assessor. It would be nice to know why it wasn't given, because it can be a defining moment in the game.
Liverpool's season has been damaged by refereeing decisions throughout, with penalties denied for incidents involving Suarez against Chelsea and Manchester City already this term which have hurt their title aspirations.
Suarez's reputation for simulating is perceived to complicate the referee's decision and damage Liverpool but Rodgers is calling for every decision to be judged individually.
"He's always asking questions of defenders, and quite a lot of the time he doesn't get what he deserves," he said.
"The one at Chelsea (when Samuel Eto'o fouled Suarez in December) was a clear penalty. He's got a penalty but should've deservedly had two penalties today. And if it is a penalty he should have it, irrespective of what his reputation is."