HP has revealed its aggressive plan to re-enter the PC gaming market under the banner of the Omen brand. The 'Omen by HP' portfolio includes a pair of monster laptops, a VR-ready desktop and a Quad HD 32in monitor.
The "unified" Omen range is headlined by its laptop offering. Available in both 15.6in and 17.3in variants, their respective $899 (£612) and $979 (£665) starting price tags put the "black shadow mesh" laptops firmly in the budget range for portable PC gaming.
Both devices are powered by Intel's sixth generation quad-core chipset – up to the Core i7 – and Nvidia graphics cards up to the GeForce GTX 965M. With a maximum of 16GB RAM and various SSD or hard drive options – including dual or hybrid drives for certain models – HP appears to have sacrificed top-end performance quality in order to maintain an affordable cost price.
With Bang and Olufsen-powered dual speakers and with additional options for 4K displays and Intel's RealSense 3D camera, the pair launch in the US on 10 July (UK buyers can register for notifications on HP's website).
On the desktop front, HP's solution for virtual reality adopters doesn't launch until August. The HTC Vive-certified tower includes options for unlocked Core i7 processors and top-end AMD or Nvidia graphics cards – including the GTX 1080 Founder Edition. The LED-lit, brushed-metal desktop also comes with the option of liquid cooling and up to 32GB memory and storage up to 512GB SSD or 3TB HDD.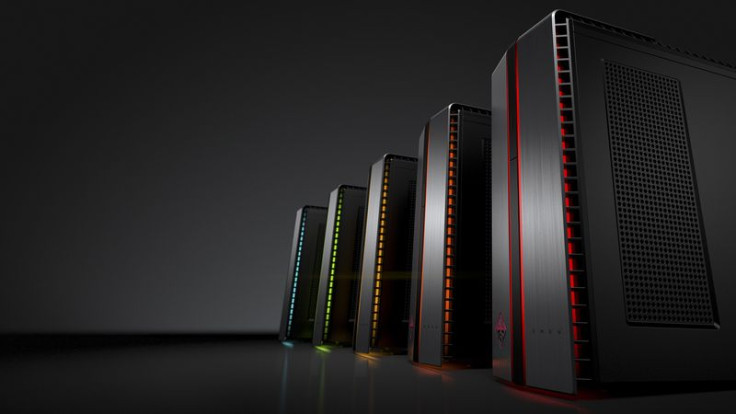 HP also claims that the Omen 32in Quad HD monitor set to launch alongside the desktop will offer "fluid, artefact-free performance at virtually any framerate", although it has yet to price either part of its gaming rig.
Described as the company's "strategy to reinvent personal systems", HP's vice president and general manager Kevin Frost said of the new range: "The new OMEN platform offers the features gamers rely on – power for battling on the go, graphics for smooth gameplay and advanced thermal cooling to tackle the latest AAA games. The OMEN by HP delivers gamers what they need to strike first, and last."
While HP made no mention of the Omen brand's history, the laptop clearly sports the VoodooPC logo – a 'luxury' Canadian PC brand acquired by HP in 2006 – and follows an Omen notebook released in 2014.