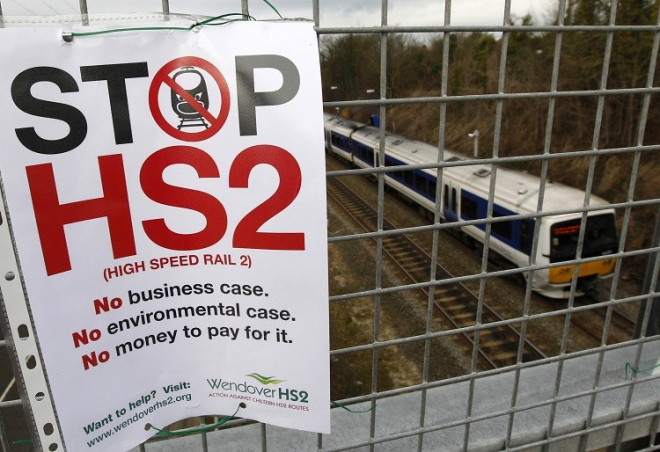 Controversial plans for the high-speed rail link between London and the north finally look set to be approved just as opposition to the scheme intensifies.
Among the chorus of dissent were an influential thinktank that questioned the economic benefits of the link, one minister threatening to resign over it, 30 Conservative MPs rebelling against the government and Tory Westminster Council pledging to formally object to the plans.
Yet the project was certain to get the green light in the Commons after a debate and a key late-night vote.
But victory for the ambitious and costly infrastructure project will only be guaranteed after Ed Miliband's opposition finally ended doubts and agreed it would back the bill at its crucial second reading vote in the Commons.
Prime minister David Cameron was resigned to suffering a large revolt by his own MPs but was confident he would win the vote with Labour help.
But Downing Street was forced to reject suggestions that the prime minister was planning to punish ministers who failed to support the policy, recognising that some of them had to deal with fierce opposition in their local constituencies.
Leading rebel Europe minister David Lidington was not being forced to return from official business in Estonia for the vote after threatening to resign if concessions were not made to his Aylesbury constituents who will be directly affected by the link.
"The key test for me is, given there is a massive cross-party majority in favour of this scheme, can we get the generous and fair mitigation that the local area deserves? I will resign at a later stage of the bill if they don't get mitigation, " he told his local newspaper.
Labour confirmed its final acceptance of HS2 after months of wavering prompted by shadow chancellor Ed Balls' statement last autumn that he could think of better things to spend £50bn on.
Shadow transport secretary Mary Creagh said the party had re-examined the proposal to ensure it provided value for money and would be voting with the government at the end of the Commons debate.
Labour's stand came as the Institute of Economic Affairs said the government risked misleading the public with claims HS2 would transform the north of England.
The report's author, Richard Wellings, told the BBC the project might be of benefit in certain specific areas but he was "sceptical about these very ambitious claims that it is going to be transformative, it is going to tackle the north-south divide, it is going to turn northern cities into world leaders".
Ministers pointed out that Birmingham, Manchester and Leeds supported the proposal in the belief it would boost their local economies.
It is now a virtual certainty that HS2 will go ahead, although it will be years before the first bit of track is laid and it will be up to the next government, of whatever colour, to put the project into reality.