HSBC announced on 9 June it will cut up to 25,000 jobs, accounting for 10% of its workforce, in a major attempt to reduce costs by chief executive Stuart Gulliver.
The job cuts were announced in the company's investor update on Tuesday (9 June), and will come on top of job cuts from selling HSBC's Brazil and Turkey businesses.
The redundancies are part of Gulliver and chief operating office Mark Maguire's effort to cut up to $5bn (£3.27bn, €4.43bn) of costs by 2017 to increase margins.
Between 7,000 and 8,000 cuts are expected to be in Britain, accounting for almost 17% of the company's UK staff.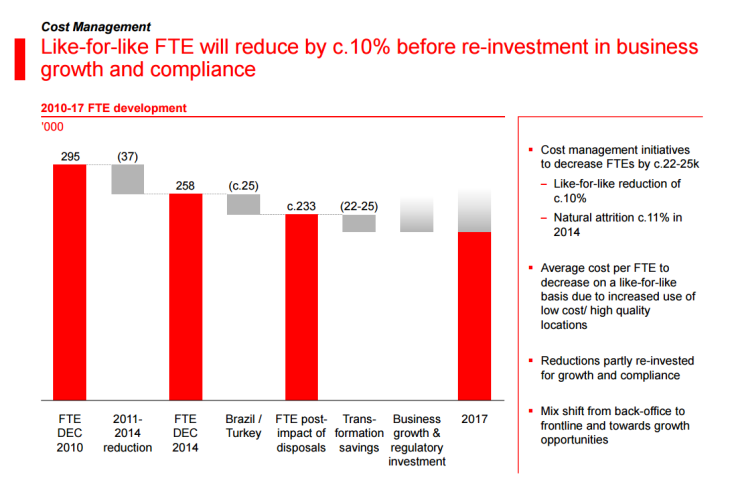 Between 2011 and 2014, the Bank cut 37,000 jobs and 25,000 jobs will be cut in the amputation of HSBC's Brazil and Turkey arms. Though the company said new available positions might offset some of the jobs, this means HSBC will have cut almost a third of its total workforce since 2010.
HSBC has been forced to pay billions in fines over the last years for misconduct including alleged foreign exchange rigging, tax avoidance and US money laundering.
"HSBC – in its release today – has failed to bring out anything radically different from moves which have been widely expected for some months now," analysts at Bernstein Research said.
Job cuts had been expected and there have been talks about a possible headquarter relocation for a long time.
"Management are targeting annual cost-savings of $4.5-5bn by 2017 and to be achieved via a costs-to-achieve programme with a total spend of $4.0-4.5bn. That isn't materially different from what the bank set out as a target at the 2014 annuals," Bernstein analysts added.
Headquarter relocation
HSBC pays 40% of the UK's income on bank levy imposed during the financial crisis, which means it costs the bank £750m a year. In order to maintain its competitive advantage, the company announced it will review the headquarters' current UK location.
In the investor update, the executives said the review should be completed by the end of 2015, and set out 11 basic criteria for the new location.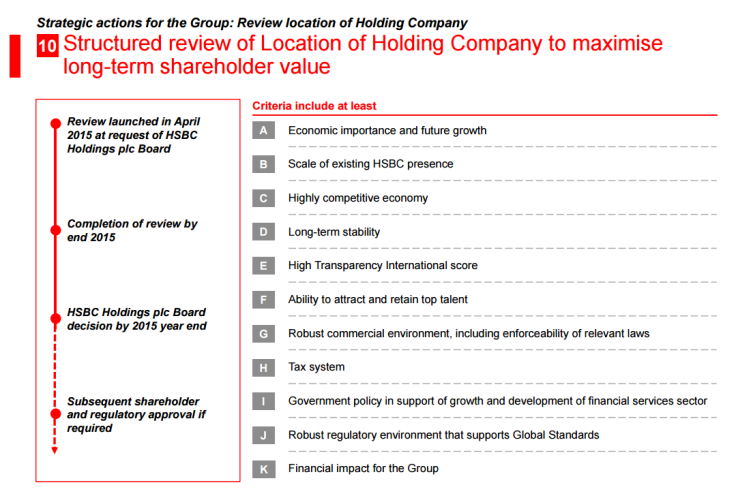 Chancellor George Osborne is expected to talk about a possible reduction of the current UK bank levy, which would be one of the main motivators for HSBC to relocate, in his Mansion Speech on Wednesday (10 June).
BBC business editor Kamal Ahmed hinted that the most likely new location would be in Asia, if the Bank decides to move. "80% of the bank's profits come from Asia, only 3% from Europe. It's clear where investors think the bank should be focused," Ahmed told BBC business live.