The extraordinary lengths to which the Swiss branch of HSBC went in order to attract and retain corporate investors has been revealed by a former employee of the bank.
According to the source, interviewed by Swiss newspaper Tages-Anzeiger, bankers from Switzerland would meet clients across the world – from piano bars in Antwerp to airports in the Congo – to butter up rich clients who were allegedly offered ways to avoid paying standard European taxes by setting up "front companies" overseas.
"The bankers who worked beyond the Swiss borders operated like secret agents," said the former employee, claiming bankers were given untraceable phones to call the HSBC offices back in Switzerland.
The leaking of confidential documents from between 2005 and 2007 have lifted the lid on the huge scale of apparent tax avoidance by powerful and famous figures from across the world, apparently with the full collusion of HSBC.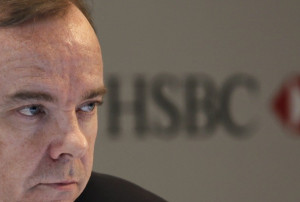 The Israeli news source Ynet publishes the example of one client of the bank, a share trader from Belgium.
In a memo dated 4 January 2005, the client's "handler" allegedly told his managers: "The client must not be called. He is the one who always calls us. He mentions the names of soccer players Zidane and Cruyff so they know it's him, and he asks about the price of caviar. The question means that the client wants to know the balance of the capital in his account."
Ynet claims that "the price of 'caviar' was at its peak in 2007, when his account showed a balance of $1.249bn" (£810m).
The latest revelations heap further embarrassment on the bank, which today published full-page apologies in Sunday newspapers over claims its Swiss bank helped clients evade tax. The Treasury Committee is to mount an inquiry.
In the open letter to the bank's shareholders and customers, HSBC's chief executive Stuart Gulliver says: "The media focus has been on historical events that show the standards to which we operate today were not universally in place in our Swiss operations eight years ago.
"We must show we understand that the societies we serve expect more from us. We therefore offer our sincerest apologies."