HTC's newly announced super-sized smartphone, the One Max featuring 5.9in full HD 1080p display, comes with a built-in fingerprint scan feature. It is powered by a 3, 300mAh battery which handles the quad-core Snapdragon 600 1.7GHz processor.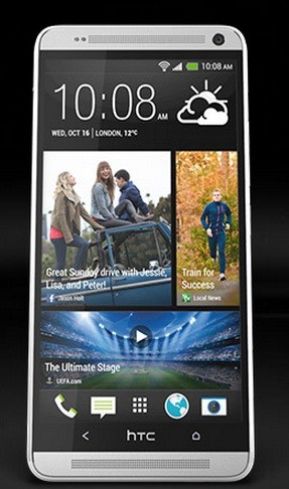 Considering the massive 3, 300mAh battery, the HTC One Max should offer 24 days of standby or full day of 3G talktime. Indeed, HTC's latest device has great battery endurance, which is revealed in a series of battery tests conducted by GSMArena.
In the first test, which measures the phone's endurance on 3G talk, the HTC One Max performed quite well. It offered a talktime up to 22 hours and 13 minutes, close to official rating (25 hours). The One max was four hours ahead of its major rival, the Galaxy Note 3, which lasted up to 18 hours and 12 minutes.
The One Max was four hours and 40 minutes behind Sony's camera smartphone, Xperia Z1, which was the winner in the talktime test with the longest talk time up to 26 hours and 53 minutes. Sony's large-screen smartphone, the Xperia Z Ultra, stayed for 24 hours and 23 minutes in the same talktime test.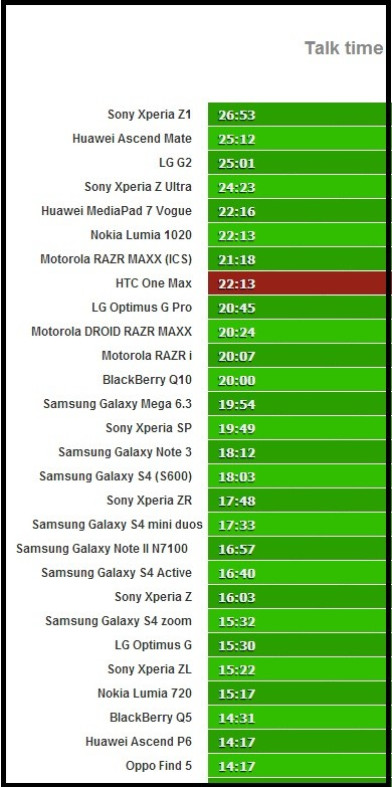 The HTC One Max delivered another good performance in the web browsing test. It occupied the third place in the test with web browsing for 11 hours and 20 minutes, which is just one hour and 19 minutes less than the internet use of Acer Liquid E2, the winner in the test. However, the One Max again comfortably outlasted the Galaxy Note 3, which stayed just a few minutes more than nine hours in the web browsing test.
The One Max did not disappoint in the video payback test either and was one of the top performers, surviving up to 13 hours and 11 minutes. There was a marginal difference (21 minutes) between the video playback of the One Max and the Galaxy Note 3, which lasted for 13 hours and 32 minutes in the test. Motorola's Razr Maxx running Ice Cream Sandwich, with video playback of 16 hours and 35 minutes, grabbed the first place in the video playback battery test.
The One Max turned out to be the best when it comes to standby efficiency as well. It scored an endurance rating of 81 hours, which means the handset will last approximately three and half days with one hour of video playback, one hour of 3G talk and one hour of web browsing.
Also read: HTC One Max Now in Stock at UK Retailers: Where to Buy