HTC has unveiled the One Max, a super-sized smartphone featuring 5.9in full HD 1080p display and improved Sense version 5.5.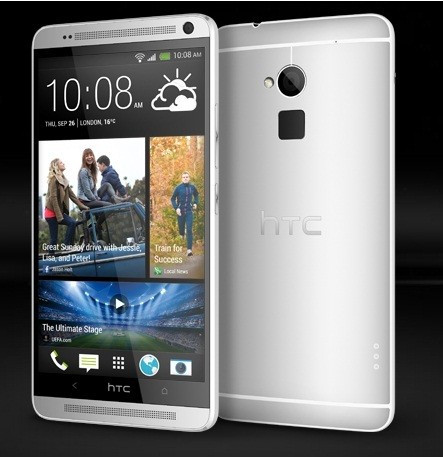 Following the official announcement, Vodafone UK has blogged that HTC One Max is a Vodafone exclusive from launch. It will be available on a 24-month Vodafone Red 4G-ready plan with £49 upfront payment and £47 each month. The offer also includes choice of Spotify Premium or Sky Sports Mobile TV access, along with 2GB data each month. Besides, there is an extra 4GB data each month on offer, provided customers sign up before the end of October.
The HTC One Max will be available to buy from Vodafone starting from this week.
Clove UK has also confirmed the pre-order for 32GB silver colour SIM-free and unlocked HTC one Max, which costs £589.99 including VAT. The retailer noted that the first stock is expected by the end of October.
Online retailer Handtec has listed the One Max in the chart. The retailer is taking pre-order for 32GB SIM-free and unlocked version of HTC One Max in silver colour with a suggested retail price of £587.99. The handset is expected to hit the store on 31 October. Other retailers and network operators are yet to reveal their price deals for the One Max.
As rumoured, HTC's large-screen handset, which ranges between a smartphone and a tablet, incorporates a built-in Fingerprint scan feature. However, unlike Apple's Touch ID, which is integrated into the Home button on the iPhone 5s, the fingerprint scanner in the HTC One Max is located at the back of the device, just below the camera lens. It enables users to lock or unlock the screen and launch up to three applications by assigning an individual finger to each application.
There is a Snapdragon 600 chip inside the HTC One Max, which features a quad-core processor, with each core running at clock speeds up to 1.7GHz, paired with 2GB RAM. It will run on Android 4.3 Jelly Bean once it comes out of the box.
Like the HTC One and One Mini, the HTC One Max also comes with HTC UltraPixel rear-camera and a 2.1 megapixel front-facing camera. Other key features include HTC BlinkFeed homescreen reader, HTC Zeo and HTC BoomSound. The One Max is an NFC enabled handset and supports 4G LTE network speeds.
Also read: HTC Rolling Out Android 4.3 with Sense 5.5 OTA Update for HTC One in UK