Around 100 people have been killed during fighting in Central African Republic (CAR), one day after warring sides signed a ceasefire. The violence erupted in Bria, north-east of the capital Bangui, on Tuesday (20 June).
NGO Medicines Sans Frontier (MSF)said there was "intense shooting" in the town, adding the situation remained volatile in the country, which has been ravaged by civil war since 2013.
Initial reports put the death toll at 40, but residents later told news agency AFP around 100 people had been killed and dozens injured.
It is not clear what caused the violence in Bria.
"The warring parties burned villages and neighbourhoods of Bria, forcing more of the population out with many fleeing into the bush," local MP Arsene Kongbo told AFP.
Previous clashes in May caused more than 40,000 people to flee from Bria, according to the UN. Of these, 38,500 fled in just three days.
Overall, at least 100,000 people have fled CAR since mid May. in what the UN described as the "worst displacement" in CAR since the crisis started.
CAR conflict explained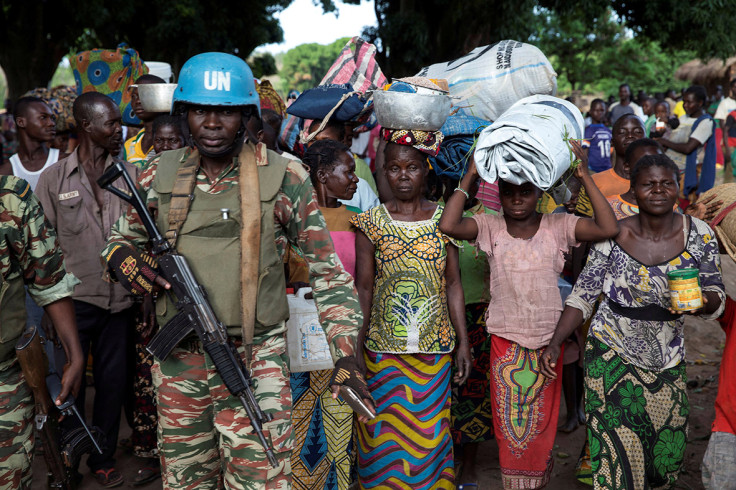 Fighting erupted in 2013 after President Michel Djotodia, a Muslim, replaced former leader Francois Bozize, a Christian, in a coup. The overthrow sparked a conflict between Muslim Seleka and Christian anti-Balaka "anti-machete" militias that has resulted in thousands of deaths. Several militant groups have emerged since.
Rights groups have accused some of the militants of committing serious abuses and atrocities including execution of civilians and humanitarian personnel, as well as rape and torture over the course of the conflict.
Djotodia resigned in January 2014, after failing to halt violence in the country, and was replaced by an interim government led by Catherine Samba-Panza. She was considered politically neutral as she had no links to either camp in the war.
The interim government organised parliamentary and presidential elections, originally supposed to take place in October 2015. However, they were postponed after clashes featuring rebel groups killed more than 100 people between September and November of that year.
After peaceful elections in February 2016, former Prime Minister Faustin-Archange Touadera became president, and international observers saw it as a major step towards the resolution of the conflict.
When Touadera was elected, he pledged to restore peace in the country and disarm militant groups, but the government has struggled to contain tit-for-tat violence between militias.
Fighting has killed thousands and internally displaced more than 500,000 people, thousands have also fled to neighbouring countries. The UN estimates that 2.5 million are in need of humanitarian assistance in the country, one of the world's poorest nations.
The recent truce was brokered by the Sant' Egidio Catholic Community after five days of talks in Rome.
It came weeks after the government held meetings with members of rebel groups to discuss ways to achieve disarmament.
For the first time since warring sides committed to the Disarmament, Demobilization, Reinsertion and Repatriation (DDRR) programme in 2015, government officials and representatives of 14 rebel groups met in the capital Bangui, in what was hailed as an unprecedented step toward the end of the bloody conflict.