War and famine in South Sudan continue to displace hundreds of thousands of people, with non-governmental organisations (NGOs) estimating at least 1,000 children flee the country every day.
According to the UN, at least 1.87 million people have fled to neighbouring countries – mainly Uganda and Sudan – since the conflict started in 2013. More than 2 million people are internally displaced.
People are fleeing to escape violence, famine and drought. The mass exodus has been deemed "Africa's worst refugee crisis".
South Sudan became the world's newest nation after breaking away from Sudan in 2011. To mark the UN-designated World Refugee Day , which falls on 20 June, IBTimes UK looks at the crisis in the nation.
Conflict
The South Sudan conflict erupted in 2013 when President Salva Kiir, of the Dinka ethnic group, fired his deputy Riek Machar – from the Nuer group. Machar then became a rebel leader.
Fighting has killed an estimated 50,000 people, amid allegations of crimes against humanity committed by both sides, including rape, torture and the use of child soldiers. The UN has several times warned the country is on the verge of a Rwanda-style genocide.
Kiir and Machar have agreed on several peace deals – the last of which was signed in August 2015 – but have failed to control their troops, who have broken every ceasefire since 2014.
Machar has twice fled South Sudan. The last time was in July 2016, following deadly fighting in the capital Juba.
The South Sudanese government – which has been hit by a string of high-level resignations – earlier this year agreed to declare a unilateral ceasefire to promote peace. However, earlier in May, rebels loyal to Machar rejected the government's offer of dialogue.
Violence has continued since, amid fears ethnic cleaning might be underway in some areas of the country.
Famine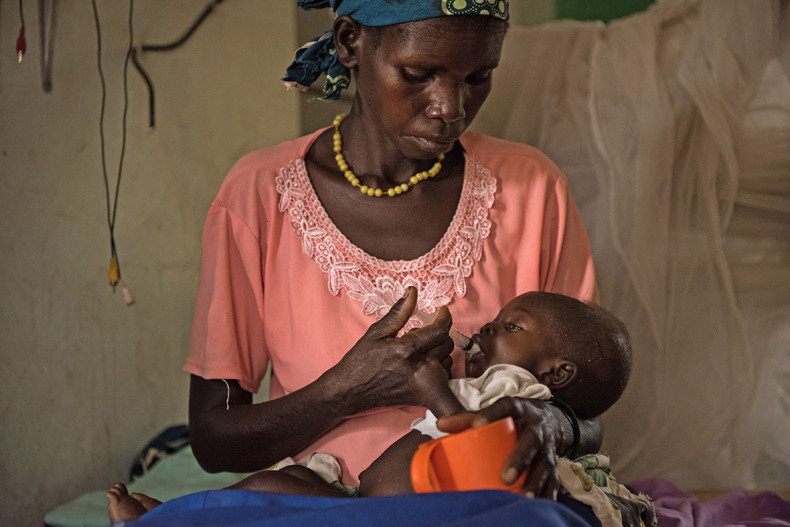 South Sudan is also facing what has been dubbed as a "man-made famine". At least 100,000 people are facing starvation in Unity State – in the upper Nile region – and millions across the country are hit by food insecurity.
After famine was declared in part of the country earlier this year, the European Commission announced an emergency aid package of $85m (£68m) to help the country.
However, the World Food Programme (WFP) told IBTimes UK South Sudan needs $205m to cope with famine just until July.
The UK government, which has given South Sudan more than £500-million-aid in the last three years, also pledged more assistance to the country and called on the government to halt the violence and allow humanitarian access.
"The UK is ensuring millions of people in South Sudan get urgently needed food, water and medicine, as well as longer term support," international development secretary Priti Patel said at the time.
"The international community now needs to step up alongside Britain to stop famine spreading and help support stability in South Sudan and the region, which is firmly in all our interests."
Patel told the Guardian earlier this month: "Famine is tragic, I cannot find the words to describe how appalling the situation in South Sudan is, children wasting away, children in camps alone because their parents have been murdered."
Child refugees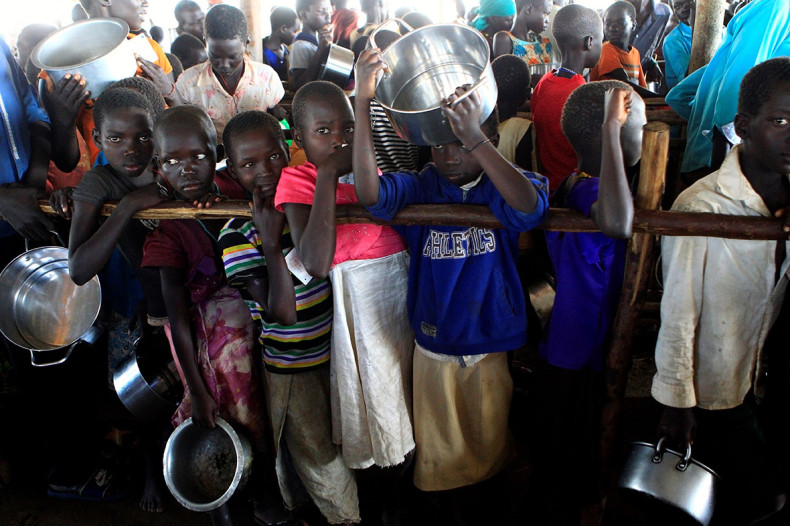 The UN children charity (Unicef) has estimated at least 1.25 million South Sudanese people have fled into Uganda since December 2013, making the country the host of "the fastest growing refugee emergency in the world".
Global children charity World Vision believes around 100 unaccompanied South Sudanese children cross into Uganda every day. Once they make their way into the neighbouring country, children are safe from conflict, but at risk of further abuses – including forced marriage.
The charity recently partnered with Apartial, a community of artists, to help children tell their stories through art.
The project, A Brighter Future, in taking place at Bidibidi, a refugee settlement in northern Uganda that is hosting some 280,000 South Sudanese refugees. Of these, around 68%, or 224,000, are children.
World Vision called on the international community to follow the example of Uganda, which the organisation said has one of the most progressive refugee policies in the world.
"Those of us responding only have 15-16% of the funds we need. As a consequence, the Ugandan Government and World Food Program recently had to cut already limited food rations," Gilbert Kamanga, National Director for World Vision Uganda,
"It's a mistake to ignore this crisis because it involves conflict and politics – we all need to see that children are at the centre of the picture," he continued.