Opponents of the Dakota Access pipeline brought their protest to the capital city of Washington on Friday (10 March) after a federal judge declined to halt the construction of the final section of the project.
According to reports, hundreds of activists and Native Americans rallied outside President Donald Trump's International Hotel on Pennsylvania Avenue and also staged a demonstration in front of the White House, the Guardian reported.
Tom Goldtooth, executive director of the Indigenous Environmental Network, who was also protesting, said that the developer of the project Energy Transfer Partners (ETP) has to ultimately pay for disregarding the tribes' religious beliefs.
"We have not lost this battle. Nothing will ever go right for those corporations. It's only a matter of time before it will fall flat on its face," Goldtooth was quoted as saying by the USA Today.
Some of the protesters dressed in traditional Native American clothing danced and prayed outside the presidential house in what is believed to be a show of solidarity against the government and its decisions.
Protesters were also carrying a black inflatable tube representing an oil pipeline, which was painted with the words: "No pipeline".
LeeAnn Eastman, who has long protested on the Standing Rock reservation against the pipeline with activists, said she did not expect to change Trump's mind about the project.
"We know he has closed his heart and his mind to us as he did the rest of the nation. We're still praying for him – but it seems like we'll have to go about this another way," she said.
Friday's demonstration was among several protests in the last one year against the $3.7bn (£2.94bn) Dakota access pipeline that runs beneath Lake Oahe.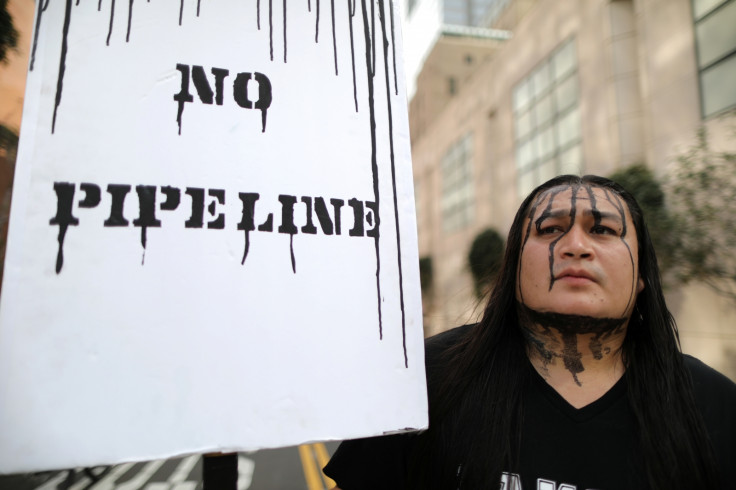 The project is designed to transport crude oil from North Dakota into Illinois. It will also run through the states of South Dakota and Iowa. The 1,170-mile pipeline crosses 50 counties and three major rivers.
The project, when complete, is expected to transport about 470,000 barrels of crude oil in a day.
However, Native Americans and environmentalists have long argued that the line would ruin their scared sites and contaminate their drinking water.