At least 76 "rogue protesters" have been arrested for demonstrating against Dakota Access Pipeline. Police said the arrests happened after the demonstrators refused to vacate the land owned by the pipeline company – Energy Transfer Partners (ETP).
Commenting on the arrest, the Standing Rock Sioux tribe – which has been protesting against the project since months – said that the move by the "rogue group of protesters" has put their cause at risk.
With the latest arrests, the total number of detained people since August has almost touched 700, a spokesman of the police said.
The protesters had moved from their existing camp on flood-prone ground to land owned by the company. Rob Keller, spokesman for the Morton County sheriff's office, said it was too early to say what charges were being filed against those arrested. He added that no injuries had been reported during the operation.
According to reports, the protest came just a day after the Acting Secretary of the Army Robert Speer ordered the US Army Corps of Engineers on Tuesday (31 January) to complete the controversial project.
The Corps had previously said that they would look for alternative ways to complete the project.
However, the Tuesday's order has sparked the latest controversy. Native Americans have said they would challenge the order and fight until an environment-friendly decision was taken.
The $3.7bn (£2.94bn) Dakota access pipeline is designed to transport crude oil from North Dakota into Illinois. The project will run through the states of South Dakota and Iowa. The 1,170-mile pipeline also crosses 50 counties and three major rivers.
However, the Standing Rock Sioux Tribe along with a number of environmentalists have been protesting against the construction as they fear the line will ruin sacred sites and contaminate drinking water.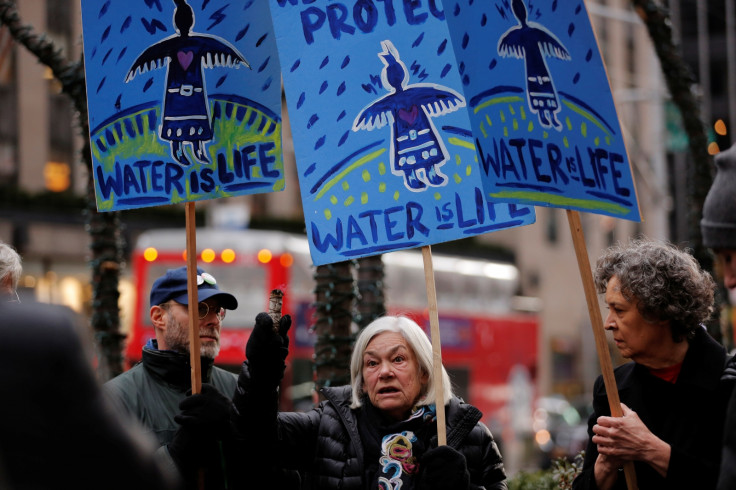 The ex-President Barack Obama administration, in September 2016, had postponed the final approval of a permit required to allow tunneling beneath the Lake Oahe, a move proposed to provide federal officials more time to consult with tribal leaders.
However, the new government of President Donald Trump overturned the order and signed an executive order, calling on his administration to accelerate the construction of the project, which he said would "serve the national interest".