Activists have refused to be removed from the Dakota Access pipeline protest site. After months of protest, Governor Doug Burgum issued an emergency evacuation order last week stating protesters must leave the North Dakota site by 2pm local time (8pm GMT) on Wednesday (22 February).
However, as the deadline was reached, dozens of environmentalists and Native Americans remained on the site, refusing to give up their cause.
Scores of riot police armed with truncheons surrounded the main encampment of tents and tipis, and created blockades allowing people to leave, but not return.
Nine people were also arrested for allegedly "provoking" police, but many remained in the safety of their tents.
Lieutenant Tom Iverson confirmed to CNN that despite the evacuation orders, it was deemed too unsafe to clear protesters.
"With darkness coming, we're not going to be entering that camp right now," Iverson said. "It's not a safe situation with people potentially hunkered down in the camps."
He estimated between 50 and 75 people had remained – down from the roughly 10,000 that had gathered during the camp's peak population. Stephanie Big Eagle, a member of the Yankton Sioux tribe, told the Guardian: "There are still people there who are going to remain until they are removed.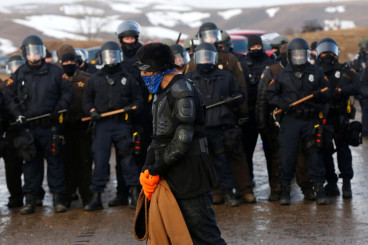 "I'm worried for their safety, we all are. We're praying for them."
Police at the Oceti Sakowin camp in Cannon Ball have been accused of using violent tactics, such as using water cannons, Mace, rubber bullets, tear gas and pepper spray.
The FBI has also started a terrorism taskforce to tackle the protesters' presence and hundreds are facing federal prosecutions.
Floris White Bull, a 33-year-old Standing Rock member, said: "I'm praying for no loss of life. I'm praying that no one gets hurt.
"I know for a fact that every single person that's going to be forcibly removed ... is going to be traumatized and suffer distress. That's not easy."
The eviction order comes less than a month after US President Donald Trump ordered an expedited approval of the pipeline, reversing Barack Obama's decision to stop the $3.7bn (£2.97bn) project.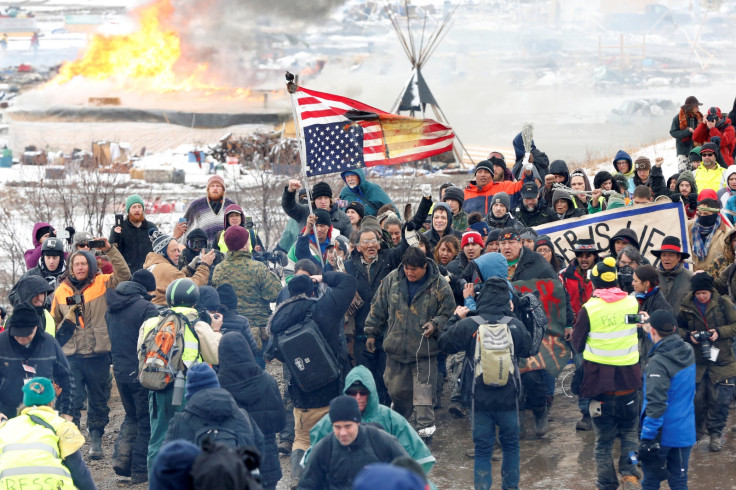 In spite of the challenges the protesters face, many are determined to battle on.
"Just because we're getting removed from that area doesn't mean it's over," said Big Eagle. "We just have to continue to work together as a whole for this common cause, which is protection of Mother Earth."