Pope Francis seems to have come in support of Native Americans, who are seeking a halt on the last link of the Dakota Access Pipeline. On Wednesday (15 February), the pontiff said that indigenous cultures have a right to defend "their ancestral relationship to the earth".
The Pope, who has strongly defended the rights of indigenous people in the past, made the comments while addressing representative of tribes attending the Indigenous Peoples Forum in Rome. He was talking about the protection of native lands at the meet.
Although he did not mention the Dakota Access Pipeline or Standing Rock Sioux or the Cheyenne River Sioux tribes, he made his stand clear that development had to be submissive with "the protection of the particular characteristics of indigenous peoples and their territories".
"In this regard, the right to prior and informed consent should always prevail. Only then is it possible to guarantee peaceful co-operation between governing authorities and indigenous peoples, overcoming confrontation and conflict," the Pope added.
His comments came after an executive of the Energy Transfer Partners (ETP) – the developer of the project – compared the opponents of the pipeline to "terrorists".
Joey Mahmoud told Congress that the protest movement "induced individuals to break into and shut down pump stations on four operational pipelines", and added, "Had these actions been undertaken by foreign nationals, they could only be described as acts of terrorism."
Thousands of people including environmentalists and climate activists have been protesting against the $3.7bn (£2.94bn) pipeline, designed to transport crude oil from North Dakota into Illinois, since last summer.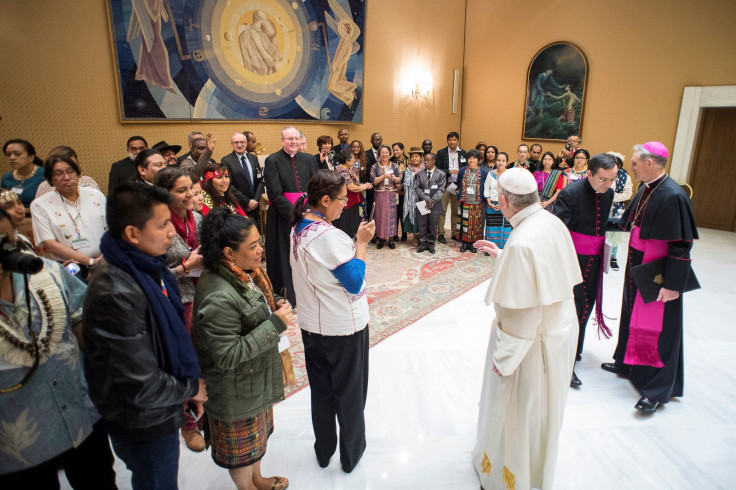 Native tribes argue that the line would ruin their scared sites and contaminate their source of drinking water.
Former US president Barack Obama's administration had denied the last permit to build the pipeline in December 2016. However, on 15 February the US Army Corps of Engineers gave the final nod after President Donald Trump green lighted the project in January.