Hundreds of protestors rage outside Donald Trump rally in Califonia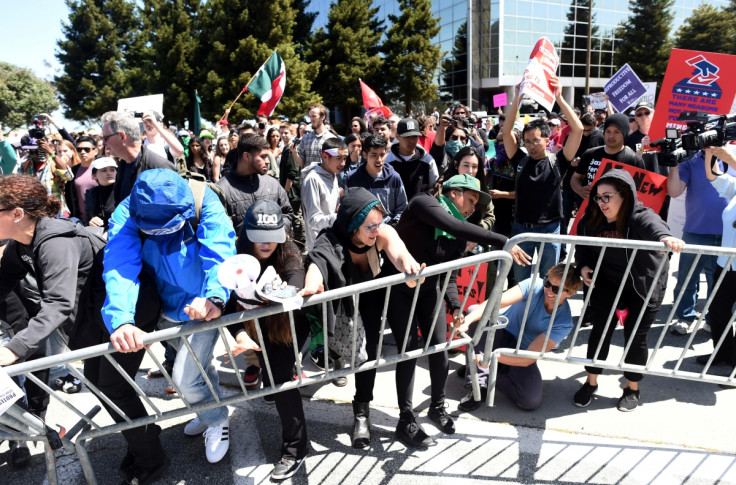 Hundreds of protesters barricaded the entrance of a hotel in California where Donald Trump was due to make a speech, sparking clashes that caused his address to be delayed. The Republican front runner had to enter via the back door of the Hyatt Regency hotel in Burlingame, near San Francisco, California, because of the demonstrators.
The 69-year-old was set to join fellow Republican candidate hopefuls Ted Cruz and John Kasich, who were addressing the party's state convention on Friday along with Carly Fiorina , the former HP executive that Cruz has selected as a potential running mate.
The White House hopeful was met with chaotic scenes at the California Republican State convention, with protesters holding placards and people accusing him of racism and misogyny.
The campaigners had blocked the front of the hotel, but the under-fire billionaire Republican candidate used a street already shut by police. Aerial footage showed Trump emerging from a motorcade with Secret Service agents and walking up a dirt track to the side of a road.
Outside the venue, police were forced into declaring an unlawful assembly, giving protestors five minutes to leave or face arrest. Trump told the crowd when he finally got on stage: "That was not the easiest entrance ... felt like I was crossing the border".
Police in riot gear had to drive away the crowds at the front doors of the hotel, who were holding banners with slogans like "Stop Hate" and "Dump Trump".
On Thursday night, violence erupted at a Trump rally in the city of Costa Mesa. A police car had its front and back windows smashed, with a Trump supporter suffering a bloodied face. At least 20 people were arrested as supporters of the property mogul and their opponents clashed at a rally in Southern California.
On Tuesday night, the bombastic Trump took an even closer step to the Republican nomination with wins in all five contested Eastern states. Trump won Delaware, Rhode Island, Pennsylvania, Connecticut and Maryland, despite an informal anti-Trump alliance between Cruz and Kasich being agreed in the week previous.
California holds its crucial Republican primary on 7 June.
© Copyright IBTimes 2023. All rights reserved.