A hunter has described how his face was reconstructed by surgeons after a grizzly bear ripped it off in a savage attack.
Lee Brooke, originally from Pennsylvania, was hunting for elk in Dubois, Wyoming, with three other men when the accident happened.
While stalking he became separated from the rest of his group, but carried on in the woods alone.
The trapper was approaching an animal killed in the previous day's hunt when he noticed a grizzly had got there before him. Brook turned and fled but was caught by the wild animal, who knocked him unconscious following a brief struggle. When he awoke moments later the bear was lying beside him with its nose in his ear.
The 61-year-old describes how he was shocked to see his face and moustache "laid out on the ground" next to him.
"Now I knew what was wrong with my face", he added. Despite his horrific injuries he says he felt no pain.
He explained to Fox 31 News: "I felt her sniffing my cheek. I felt her whiskers. I should've bled to death right there. I should've at least drowned on my blood."
Brooke said he had no choice but to fight the bear if he wanted to escape, despite the blood flowing down his face. His attempts to hit the bear resulted in the animal simply biting down on his arm.
Without his gun, he reached for his knife and struck the bear repeatedly, which caused the animal to flee.
"I don't know that I would have been brave enough to stab her if I could see her," Brooke said. "I had to lean in to stab her in the head. So I was this close to her nose."
Brooke was finally rescued after an hour when his brother-in-law heard him shouting for help. The relative retrieved his nose and face and put it in his pocket as emergency services were called to their location.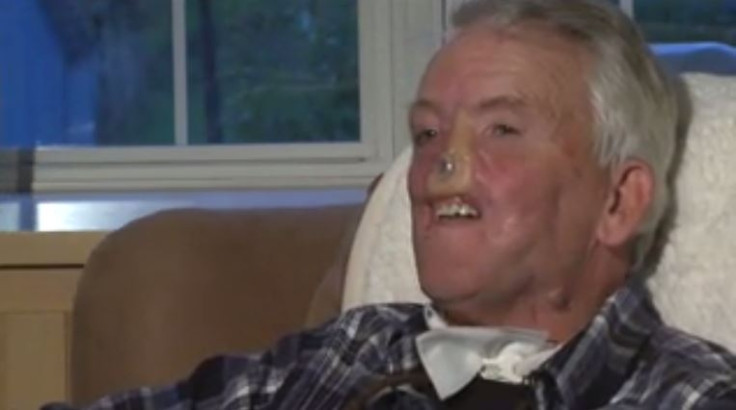 Within hours he was evacuated to the Swedish Medical Centre in Colorado, where he spent five months with doctors as they attempted to save his face. Surgeons have replaced part of his face with some skin from his fibula. There are hopes surgeons can replace his nose next year.
"They were so confident and compassionate and communicated really well back and forth," said Mr Brooke.
"Everybody was phenomenal. They built me up and never let me down. They're the best of the best."