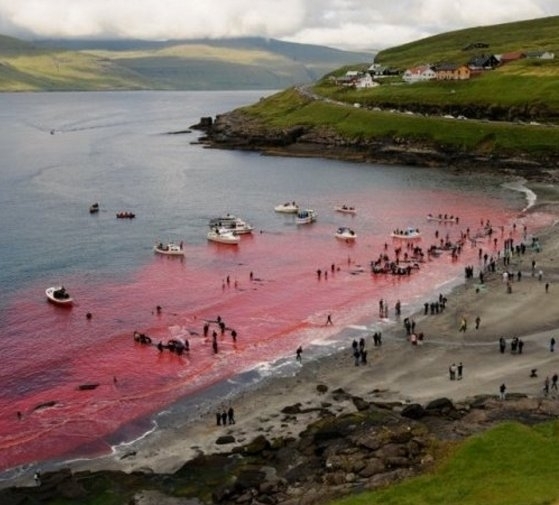 An animal rights group has documented the shocking slaughter of dolphins and whales in the Faroe Islands.
Activists at Sea Shepherds spent three months posing as tourists to witness up close the violent death of dolphins and whales that visit the region's waters. They say their Operation Bloody Fjords campaign "exposes continued barbaric killing of dolphins and pilot whales."
The killing of these mammals, or grindadráp as it is known locally, is a long-held tradition in the Faroe Islands. During the summer months, floatillas of boats are permitted to drive and trap dolphins in shallow bays. The mammals are then killed by the fishermen using whaling knives that sever their spinal cords.
Sea Shepherds say they witnessed the killing of 198 Atlantic dolphins and 436 pilot whales during this year's hunting season.
In one instance at Funningsfjordur, dozens of people, including children, watched on as 100 dolphins were killed in a single hunt
"Many of the pod still laid on the beaches, blood flowing from the kill wounds. One dolphin with a wound so deep it had almost severed the head completely.
"Parents could be seen taking their children down to see the bodies close up. One we observed even lifting their boy up to sit on the body of a dolphin as they took photos of him.
"The lack of any empathy for the lives that had just been brutally taken was clear, as was an insight into how future generations are already being exposed to this brutal act."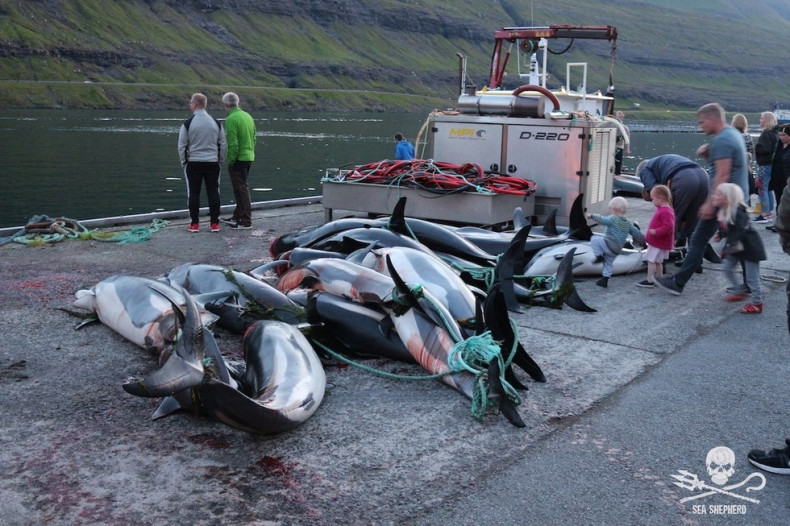 Sea Shepherds have campaigned against the hunts since 1985 and claim their work has saved the lives of hundreds of pilot whales.
A total of 28 Sea Shepherd volunteers have been arrested for interfering against the grindadráp in the past. That said, this year was one of the worst on record for numbers killed.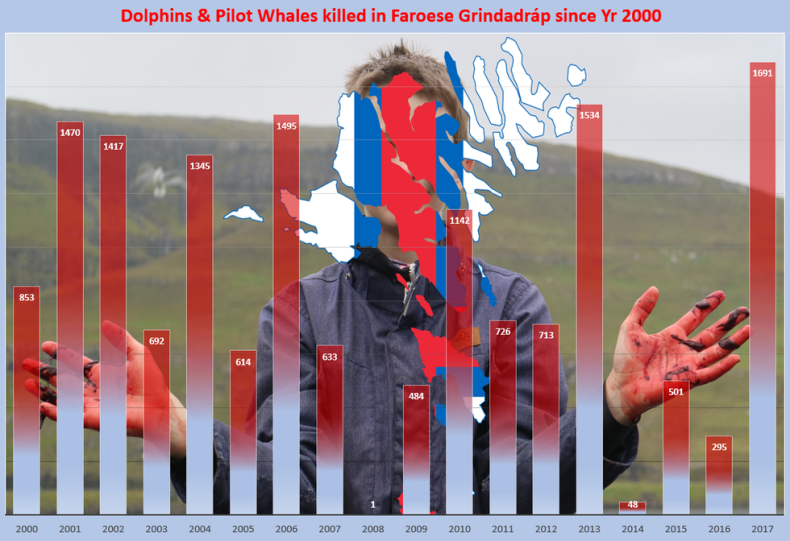 The Faroese authorities deny that the hunts are barbaric and say that the nation is self-sufficient when it comes to food thanks to the annual hunts.
"In the Faroe Islands it is considered both economic and environmental good sense to make the most of locally available natural resources, and to maintain the knowledge required to use what nature can provide in a harsh oceanic environment," they said in a statement to Fox News.