Hurricane Harvey was the first major hurricane to make landfall in the US since Wilma in 2005. It claimed 66 human deaths with catastrophic inland flooding hitting hundreds of thousands of homes, displacing more than 30,000 people and prompting more than 17,000 rescues.
But humans are not the only beings who suffered and perished in the natural disaster, which left terror in its wake as it meandered over eastern Texas and adjacent waters after it developed from a tropical wave to the east of the Lesser Antilles, rapidly intensifying towards the end of August.
In time of writing, Hurricane Irma is slamming the Caribbean islands on its journey towards Puerto Rico, with four of the strongest buildings on the island of St Martin already destroyed.
What we don't really see in the news is how many animals are injured, trapped and killed in the abandoned homes during natural disasters.
A lot of them aren't even given a chance of survival due to being tethered, locked in cages or hutches. The majority are just stuck inside rooms or garages, unable to escape their horrific fate as the water rises.
Founder of PETA, Ingrid Newkirk, exclusively spoke to IBTimes UK about the animal rights organisation's work in the devastating aftermath of Hurricane Harvey, with Community Animal Project rescue team members spending a week on the ground in Texas. The brave individuals trudged through the floodwater searching for abandoned, lost and injured animals, and encountered some heart-breaking sights.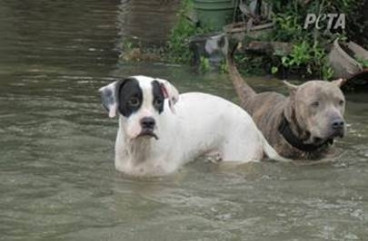 She said: "We have two teams out in the field – we did the same during Hurricane Katrina and so on. Our guys and girls have been going into the flooded houses – we have a boat – and enter the areas where people have been evacuated."
Regarding some of the most shocking discoveries, Newkirk continued: "We found two Chihuahuas yesterday and earlier this week we found another Chihuahua on one of the shelves of an entertainment centre in one flooded home.
"We also came across another dog on a floating mattress – absolutely petrified in the dark. The team also found a kitten crying and another kitten on top of an umbrella that had been put on a shelf in a garage, and they got her down after she had been clinging onto it for about five days."
She added: "They also just got two dogs off the top of a car in a garage, and they just rescued an armadillo and some chickens, though many were dead. They have reunited some of the animals with their owners."
But many animals aren't given the same chances of survival due to their owners' lack of compassion or mere negligence.
Newkirk added: "In a lot of these cases, people evacuate without their animals."
So what should pet-owners do in the midst of a natural disaster or a simple flooding?
Newkirk, who is currently giving this advice as Hurricane Irma unfolds, said: "We [PETA] advise people in advance – if there is a hurricane or tornado, flood or a fire, or the faintest idea that there is a possibility of any type of disaster – we flood the airways with television and radio spots.
"We send out releases with tips on how to evacuate with your animals and a dire warning: they will drown. They will burn. Do not leave them behind. If you are going, take them with you. It might not be possible with livestock, but we say open the fence – give them a chance to survive."
The passionate animal activist said that her team often find animals trapped and not given the opportunity to survive on their own.
She said: "What we find is that people leave a dog tethered in the back yard, they leave rabbits in hutches. We've found birds in their cages. And you can imagine the water just comes up and there's nowhere for them to go."
Newkirk, who founded PETA in March 1980, reflected on the tragedies her team encountered after Hurricane Katrina.
She said: "Katrina was particularly awful because we found so many dogs dead, and so many dogs in their last stages of life that people had put in a crate and had left in their house.
"People will use these dog crates – which you shouldn't use anyway because it's just a see-through box and a dog doesn't belong in a see-through box – and we'd go into the house with the fire department and the dogs were dying in the crate. And their owners swim back – just how could you?"
Hurricane Katrina was extremely destructive, causing $108bn (£83bn) in damages – Hurricane Harvey caused $70bn in comparison – and left approximately 600,000 animals dead. Residents fled their homes when former Mayor Ray Nagin announced an emergency evacuation of New Orleans on 28 August 2005, with people leaving their pets as they would their heirlooms, paintings and clothing.
So Newkirk and PETA's message is this: if you're fleeing a disaster, take your pets with you. If that is somehow impossible, just set them free. Read more about PETA's Hurricane Harvey work here.