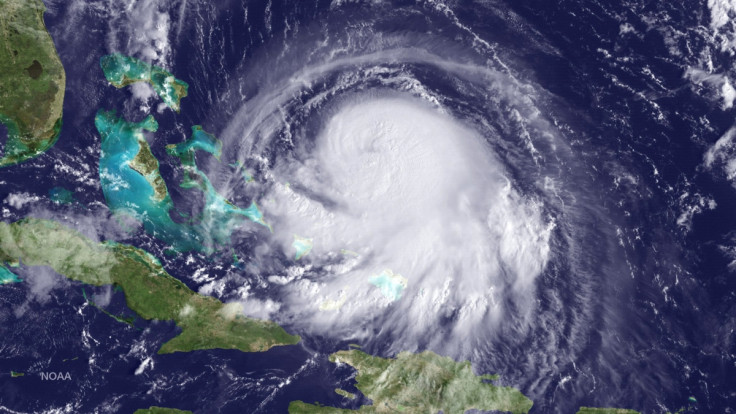 Hurricane Joaquin, the category 4 storm, is wrecking havoc in the central Bahamas as it moves west-southwest before turning towards the north. The extremely dangerous hurricane forced the government of Cuba to issue a tropical storm warning for the provinces of Camaguey, Los Tunas, Holguin and Guantanamo.
According to the National Hurricane Center, a hurricane warning is in effect for central Bahamas; northwestern Bahamas, including the Abacos, Berry Islands, Eleuthera, Grand Bahama Island and New Providence; The Acklins, Crooked Island and Managuan in the southeastern Bahamas. Bimini and Andros Islands are under a hurricane watch.
Despite its expected northward trend, the odds of Joaquin making landfall in the East Coast are dwindling, according to the Weather Channel. It noted that the best chance for the hurricane to make an East Coast landfall would be in New England, however it would probably do so as a tropical storm instead of a hurricane.
Hurricane Joaquin has maximum sustained winds at nearly 130 mph with higher gusts. "Some additional strengthening is possible tonight [1 October] and Friday [2 October], with some fluctuations in intensity possible Friday night and Saturday," the NHC stated. Infrared satellite imagery revealed the hurricane is attempting to clear out a distinct eye, which points to its continued intensification.
According to the Weather Channel, the hurricane is passing slowly close to several islands in the Caribbean, which may contribute to a catastrophic situation on the ground. Due to complicated atmospheric pattern, Hurricane Joaquin's trajectory is difficult to predict. Several forecasts have the storm making a US landfall, while others predict it will move northeastward to open waters.
What is for sure, is that Joaquin is expected to produce several inches of rainfall. Central Bahamas is expected to receive between 10 to 15 inches of rain, with isolated maximum amounts of 20 inches. Southeastern Bahamas, meanwhile, is expected to get 5 to 10 inches and northwestern Bahamas is expected to get 2 to 4 inches of rain. Cuba, Haiti and the Dominican Republic may also receive some rain in the next 24 to 48 hours.