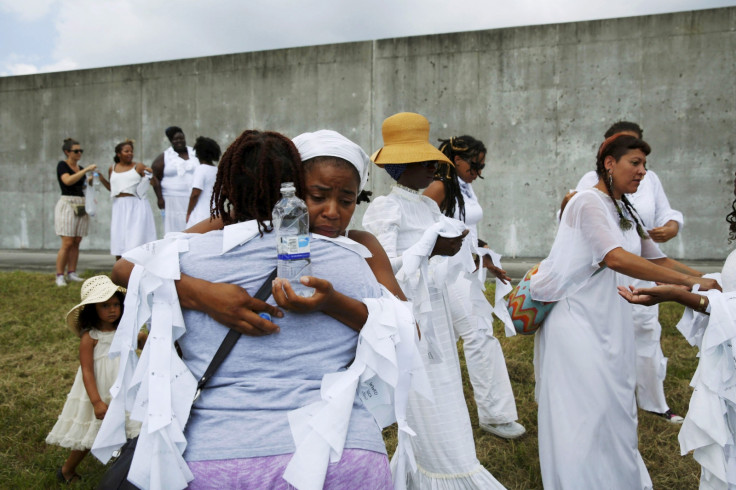 Thousands of people have commemorated the 10th anniversary of Hurricane Katrina in the US city of New Orleans. The city's Mayor Mitch Landrieu was joined by House Democratic leader Nancy Pelosi and Louisiana Governor Bobby Jindal at a wreath-laying ceremony held to honour 83 unidentified victims who lost their lives in the disaster.
The Category 5 storm killed more than 1,800 people and displaced tens of thousands more when it made landfall on 29 August 2005 in south-east Louisiana. It was the costliest natural disaster in US history and caused widespread death and destruction along the Gulf coast. The most significant number of deaths occurred in New Orleans, where the failure of the levee system left about 80% of the city under water.
Speaking at the event, Landrieu paid tribute to the city's resilience in the face of disaster. "New Orleans will be unbowed and unbroken. We're still standing after ten years," the AFP news agency quoted him as saying. "We have risen, and we will rise again, but we can only do it if we hold each other up and we don't leave anybody behind."
Jindal said: "We know that even as New Orleans is rebuilding, there are those who are grieving the deaths of their mothers, their fathers, their sisters. I want to those families to know that our thoughts are with them. Although Hurricane Katrina brought us to our knees, we did not allow that storm to keep us down. That's because of our resilient spirit."
The speeches were followed by traditional musical parades and marches. A hand-holding ceremony is scheduled to be held at the Mercedes-Benz Superdome arena that housed thousands of displaced people in the days following the disaster.
President Barack Obama visited New Orleans on 27 August and praised the "extraordinary resilience" of the city. "You are an example of what is possible when, in the face of tragedy and in the face of hardship, good people come together to lend a hand, and, brick by brick, block by block, neighbourhood by neighbourhood, you build a better future," he said.