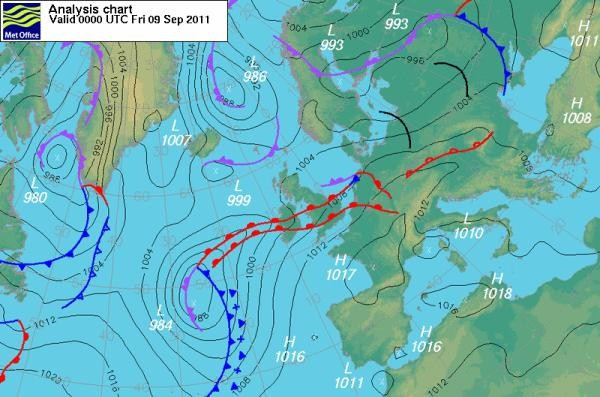 As the remnants of Hurricane Katia are head to the UK, residents and travellers alike have been warned against high and powerful winds of up to 80mph accompanied by heavy rains.
Scotland is set to be particularly affected by the tropical storm, with areas in central and southern Scotland expected to be hit with winds of up to 80 miles per hour over coasts, while the west of Scotland is set to experience heavy rain.
A statement has been issued on the Scottish government Web site, with Transport Minister Keith Brown saying, "A great deal of work is already well under way to ensure Scotland is prepared for any potential disruption. This afternoon I've convened a meeting of the Scottish Government's Resilience Room, where I've been updated on the steps being taken by utilities, transport providers, police and others to make sure Scotland keeps moving.
"Transport Scotland's Multi Agency Response Team has been activated and will be up and running before rush hour tomorrow morning. Extra power and transport staff are being moved in to areas likely to be affected, and utility companies are contacting their priority customers.
"Some strong winds and heavy rain are forecast for Monday and Tuesday, and forecasts suggest travel conditions are likely to be difficult. Robust contingency arrangements are in place so people should not panic but we should be prepared. For example, there is likely to be some disruption to roads, rail and ferry services, so travellers are advised to allow more time for journeys.
"The high winds and heavy rain are expected to peak on Monday afternoon and evening, so commuters are advised that if they can leave work earlier that would be a very sensible step to help avoid rush-hour delays. We are all working hard to keep Scotland moving and I urge everyone to allow extra time for travel, avoid unnecessary risks and keep checking Web sites and local radio for real-time information".
Meanwhile, the Met office has issued a severe weather warning covering Northern Ireland, England and Scotland with forecasters warning against potential gale-force winds of up to 80 mph late Monday.