Hurricane Katrina ripped through the Gulf Coast, claiming 1,800 lives in four states and causing more than $151bn (£96.4m) worth of damage. The storm made a direct hit on New Orleans on 29 August 2005. The city's dated system of levees and flood walls failed in more than 50 places, flooding 85 percent of the bowl-like city, most of which is below sea level.
The storm produced images never before seen in an American city: desperate masses wading through flooded neighbourhoods, bodies decomposing on city streets, and residents on rooftops pleading for help.
A million people had fled the area before Katrina arrived, but tens of thousands had lacked the means or ability to get out. Many sought refuge at the city's Superdome, converted to an enormous relief shelter. Hundreds of others were plucked from the rooftops of their inundated houses by military helicopters and taken to the city's convention centre. The delayed relief and rescue effort became a permanent stain on President George W Bush's legacy.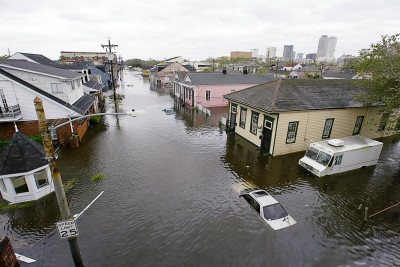 While the city was still trying to cope with the effects of Katrina, Hurricane Rita hit the region, further complicating rescue efforts. That year was the most active Atlantic hurricane season in recorded history. Ten years after Katrina, many properties still bear physical scars from the hurricane, particularly in poorer African-American neighbourhoods. Only 34% of the former residents of the mostly black Lower Ninth Ward have returned since Hurricane Katrina.