Reuters Pictures: 30 years of news in 30 powerful photos and the moving stories behind them [Graphic images]
Reuters Pictures was formed in 1985. Over the past 30 years, the news service's photographers have captured dramatic images illustrating the human tragedy of natural disaster and war as well as the fallout of economic events across the continents.
In this gallery, we look back at 30 years of powerful news photos, as some of its award-winning photographers share the stories behind them.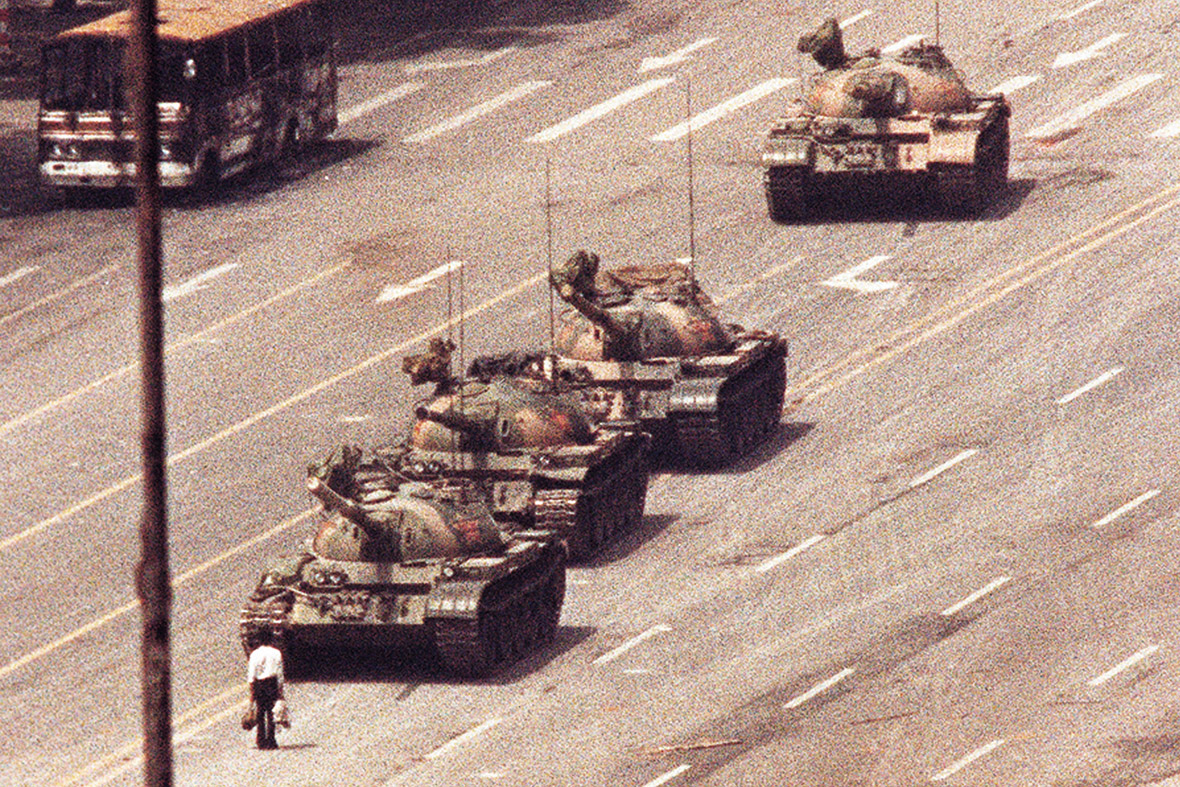 Charles Platiau, who took the photo above, says: "On December 22 1989, my mind was still full of memories of covering the fall of the Berlin Wall. I was ready to celebrate Christmas with my family, but the Romanian communist dictator Nicolae Ceausescu changed my plans.
"My boss and I were watching Ceausescu leave Bucharest by helicopter live on TV. I rushed to the airport and was lucky to board a flight chartered by the Medecins du Monde humanitarian organisation. We landed at in Bulgaria and took a taxi to the Romanian border.
"Luckily the border was not closed and I hitchhiked a ride to the capital on a truck. At noon I simply took the metro to arrive in downtown Bucharest in the middle of heavy gunfire. No helmet, no bulletproof jacket, only the enthusiasm of youth and the joy of witnessing a historical event: a revolution.
"With my 300mm 2.8 and an extender, I shot residents protecting themselves in the crossfire between an army tank and pro-Ceausescu troops during clashes in Republican square. No time for more pictures, just enough time to process and send a lone colour print to reach Sunday newspaper deadlines. There were only two phone lines at the hotel and scores of reporters arriving to file their stories. I kept the phone line open and did not hang up for 10 days in order to transmit pictures and stories.
"The picture made the front page of most international papers. It was not the best picture of the revolution but one of the first colour pictures to hit the media market. It reminds me how hard it was to get around with cases of heavy equipment [80 kg of gear including an enlarger, photo paper, a transmitter, a typewriter]."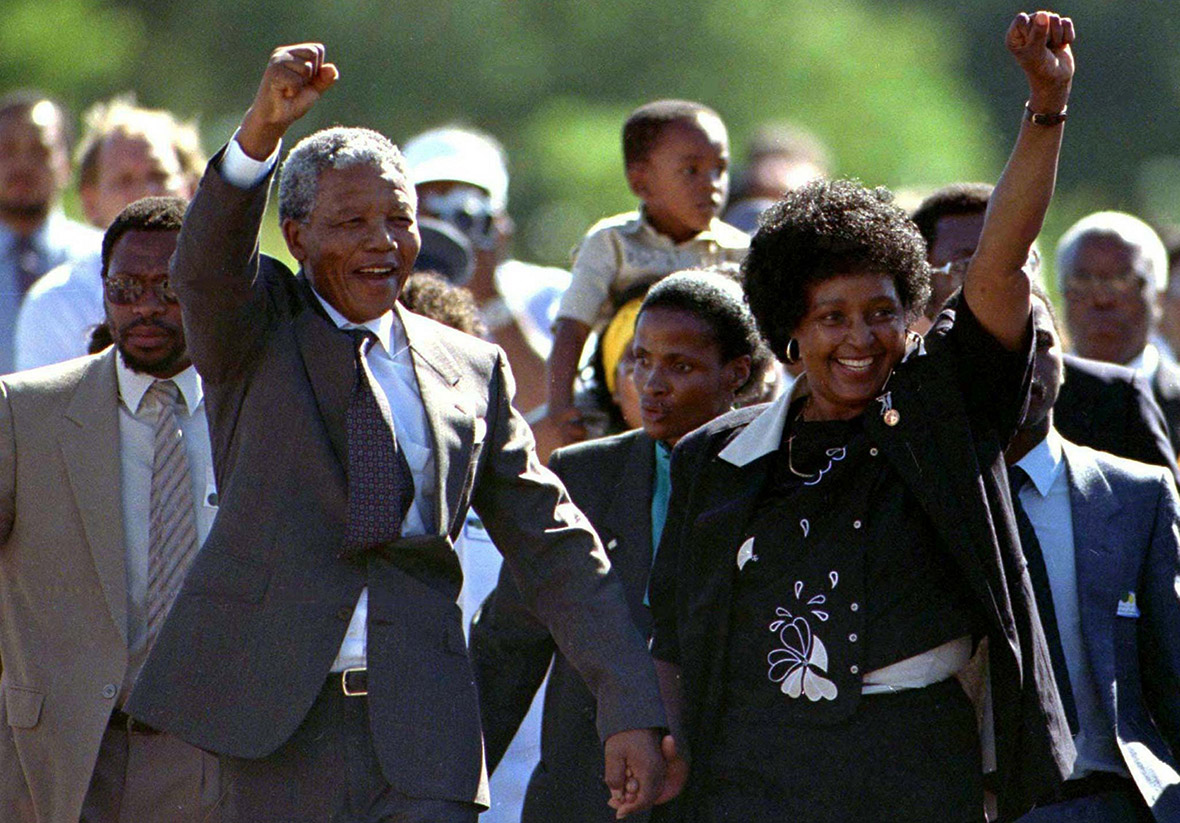 Russell Boyce, who took the photo of the oil well fire, says: "It was 1991, the pre-digital age. I had to return to my hotel room, process film, make a colour print, stick a paper-typed caption on the print and use a drum transmitter to send the picture. Initially, we transmitted pictures on our satellite phone – which was as big as a large trunk suitcase that two people had to carry as it was so heavy.
"We had a generator running in my room as there was no power in Kuwait City so my room always smelt of fumes from the generator, photographic chemicals and fumes from the oil fires. There was no water, except for about an hour a day, so processing film was difficult: I would fill the bath with water when it was on so that I always had a way to process film.
"Eventually, the telephone lines were reconnected. The picture took 21 minutes to transmit; each separation – magenta, cyan and yellow – taking seven minutes."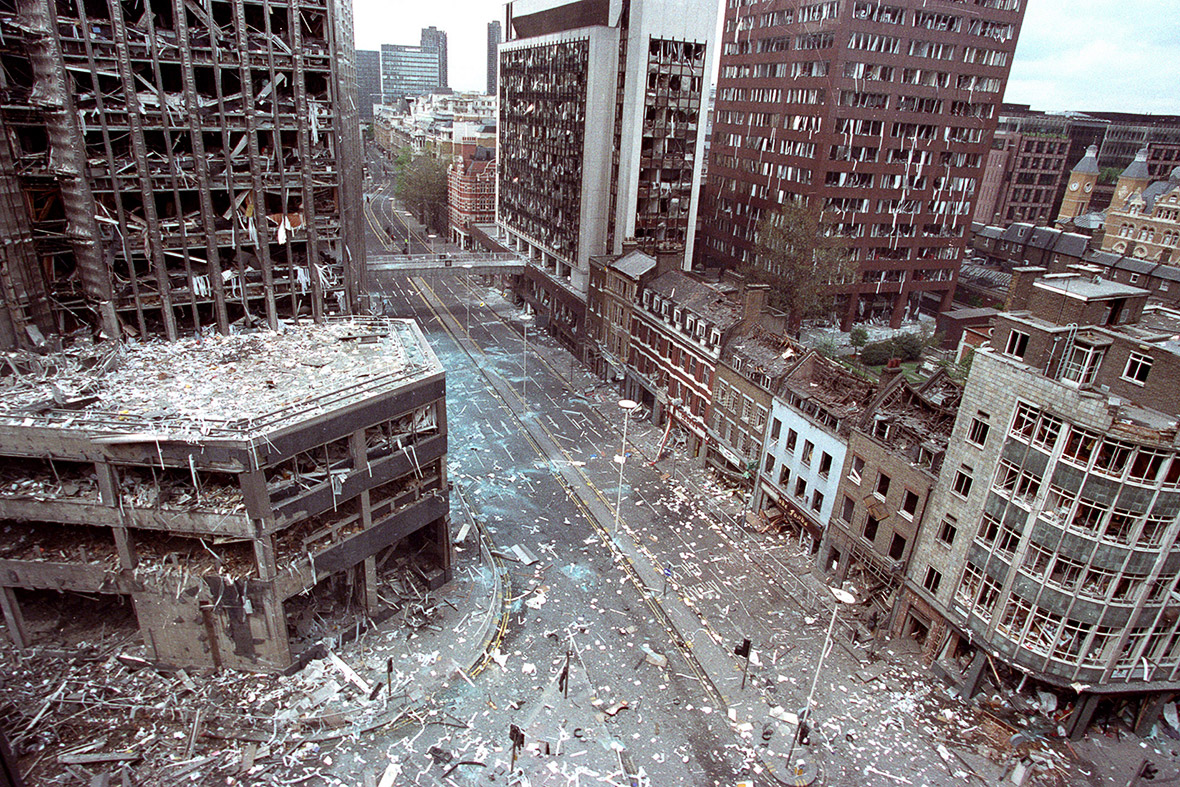 Shannon Stapleton: "I will never forget the phone call from my bureau chief on the morning of September 11, 2001: 'Shannon. A plane has hit the World Trade Center. Can you get down there as soon as possible?'
"I made it by subway to Canal Street. Upon emerging from the station I saw people were running and screaming away from the World Trade Center site. It was at that point I knew I was about to cover probably one of the biggest stories of my young career right here in New York City, not somewhere far away that I had only seen in magazines.
"I gathered my gear, which at the time was one of the first digital cameras, the Kodak DCS 520, and my Contacx G20 film camera with B/W film, and ran towards the towers. Through the clouds of dust and shards of metal I noticed a group of men carrying a man slumped in a chair covered in dust. Time stood still. It struck me that among all this chaos these five men were carrying a man I knew was dead out of the rubble.
"I had no idea that the man they were struggling to get out of there was Father Mychal Judge, the Chaplain of the FDNY and the first reported death.
"I met the guys who carried him at the first 9/11 anniversary; they thanked me for taking that picture. They felt it was important that all know the story of Father Judge and that I had made that possible."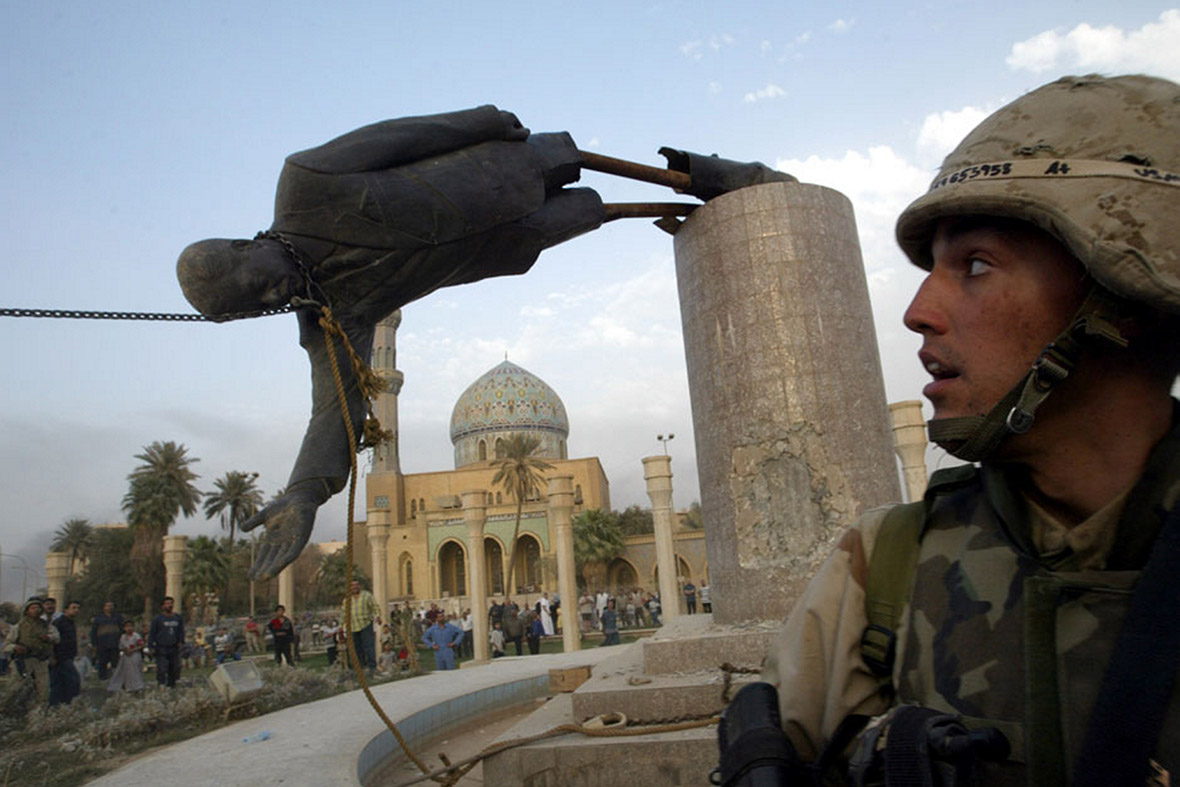 Viktor Korotayev: "The Beslan school siege took place during a festive ceremony to launch the new academic year at school No.1. Pro-Chechen gunmen seized the school and took 1,300 hostages on the first day. Some 331 people were killed, half of them children.
"On the second day of the siege, the captors were convinced to free several women with babies, so when a fighter of a special task unit was seen leaving the building with a child in his hands, there was hope that children could be saved. I think that was why this photo was published on the front pages of numerous publications all over the world.
"Throughout my career I've covered many difficult stories such as military conflicts in different countries, disasters, hostage situations. The Beslan tragedy remains the biggest psychological trauma I have experienced."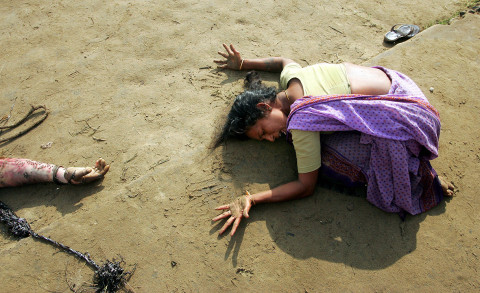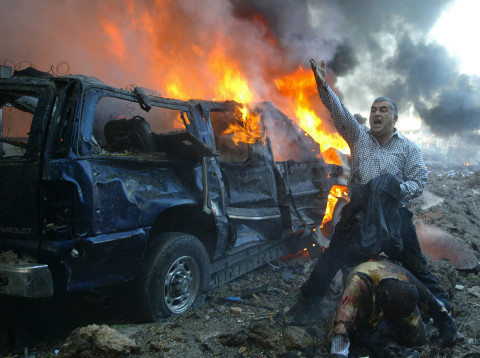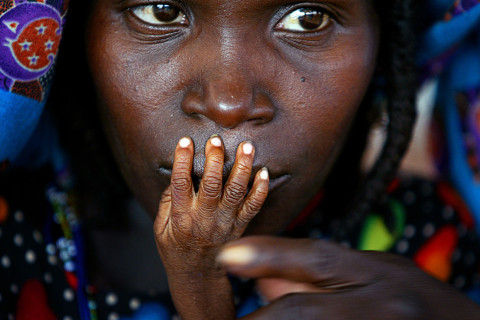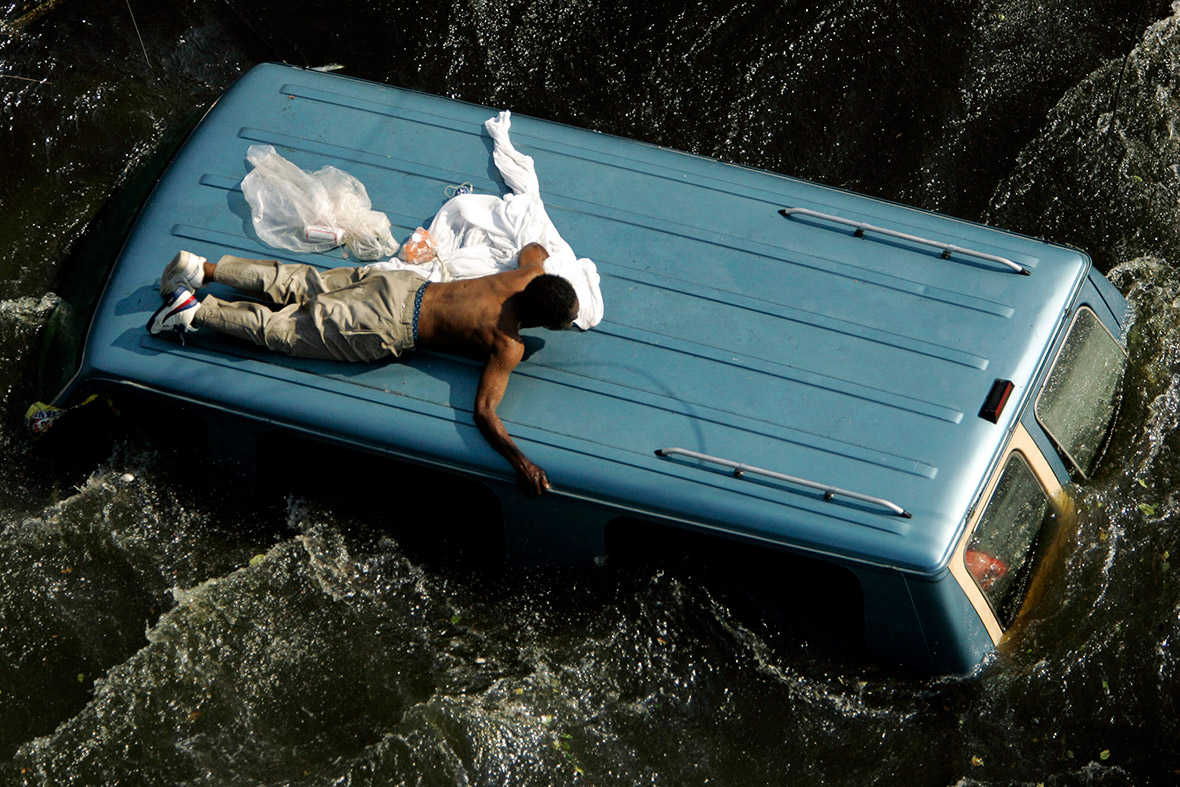 Robert Galbraith: "I arrived in New Orleans three days after the hurricane struck and was flown via a Coast Guard four-seat plane from Alexander, Louisiana, to the US Coast Guard Station in New Orleans.
"We began circling and descending and suddenly I saw a man, dressed in khakis, tennis shoes and shirtless, looking desperately toward us from the top of the van in rising flood water. With the helicopter rotating closer, he rolled to his side and clung to the top of the vehicle. Moments later a rescue swimmer loaded him into a basket and he was raised into the helicopter. We then flew to Louis Armstrong Airport, where he was placed on a stretcher and was given medical attention.
"It was odd to see someone, six days after the hurricane struck, sitting on top of the van, a tall can of Budweiser beer and a broom nearby, visible in other pictures that were filed. When he entered the helicopter, he asked of my camera 'What's that?'
"The story had a major impact on me personally. I've covered many disasters – massive fires, floods, riots, earthquakes – but Hurricane Katrina was beyond category in what I had previously experienced."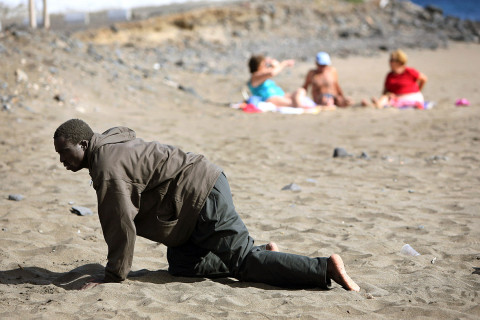 Juan Medina: "I heard about a makeshift boat carrying migrants from Africa was on its way to the beach at Gran Tarajal, south of the island of Fuerteventura, so I rushed there.
"When I arrived, the migrants, who risk their lives trying to reach European soil in flimsy boats, were being treated by members of the Spanish Red Cross who were providing them with clothes and water. They were exhausted from their perilous journey.
"The strength of this image is that it shows the contrasts in our society: on one side of the photograph you have people who seem to be enjoying the sun on the beach and on the other a man crawling through the sand after risking his life at sea.
"It was challenging to show as clearly as possible the inhumane conditions African migrants must endure in order to reach Europe. But there are also many things that this image doesn't show but that are very important in explaining why these people risk so much. For example, we don't get to see the suffering and solitude they endure after leaving their families behind.
"I believe images that tell the stories of the migrants should affect everyone. Nobody should be immune to the plight of these people."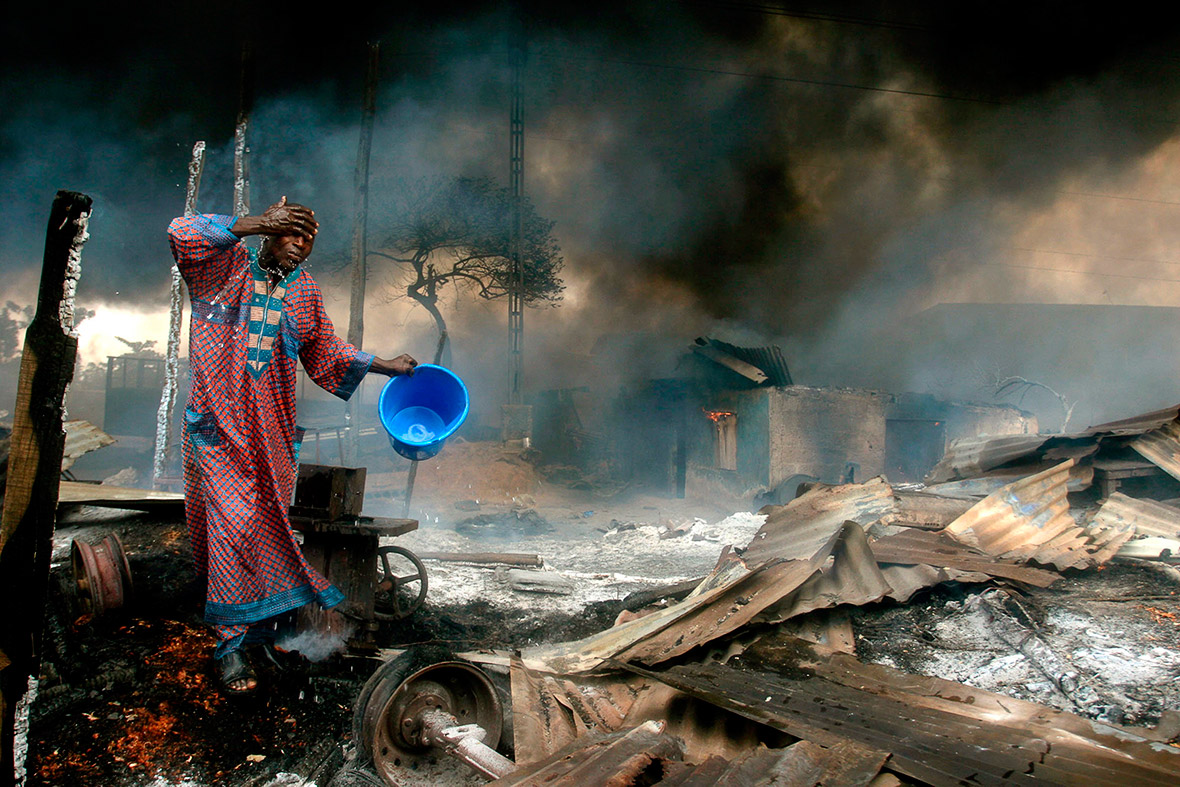 Adrees Latif: "I was covering the 'Saffron Revolution' in Myanmar where rising fuel prices ignited protests. After weeks of protests mostly led by monks, security forces raided monasteries and arrested monks in an effort to quell the demonstrations. On September 27, tens of thousands of protesters took to the center of Yangon, near the Sule Pagoda. Armed military forces arrived on the scene and dispersed the crowd with smoke bombs and machine guns.
"Seconds after the military opened fire on the crowd, I saw a man falling to the ground and turned my camera in his direction. I would later learn it was Japanese video journalist Kenji Nagai.
"Over the years, I read of previous crackdowns by the junta on protesters but never saw photographic proof from reliable or unbiased sources. This image provided a rare public glimpse of the raw brutality of one of the world's most secretive regimes."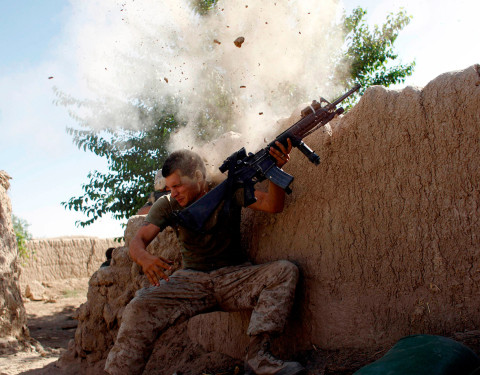 Goran Tomasevic: "If I hadn't already been pointing the camera at the Marine when the bullet hit the wall, there is no way I would have been able to react quickly enough to take those pictures. Moments earlier I had been lazing around in Afghanistan's blistering desert heat, fending off waves of giant ants, wondering when I might get to test my new 24mm lens.
"Gunshots rang out from beyond the perimeter of the compound the US Marines were guarding in the district of Garmser, a Taliban stronghold in Helmand province, the biggest opium-producing region on the planet. I grabbed my boots and cameras and ran to look. The Marines had spotted some Taliban moving around the compound some 200m away.
"I took a quick look over the wall but couldn't see any Taliban. Then the gunfire began again. The Marines opened up with heavy machine guns. The Taliban answered back with single shots.
"I thought I'd better go back and put some trousers on. I also grabbed my flak jacket, helmet and water. As soon as I got outside the firing erupted again.
"Sergeant William Bee stood up and aimed his rifle over the wall. Suddenly it seemed to explode from an incoming round and Bee was down. I dropped my cameras and jumped towards him. I felt his head and neck expecting to find blood, but there was none. He was breathing, but unconscious.
"I picked up my cameras and shot a few more pictures, then went back to see how Bee was doing. When I found him, he was grinning from ear to ear. It was his lucky day. He hadn't been hit or seriously hurt."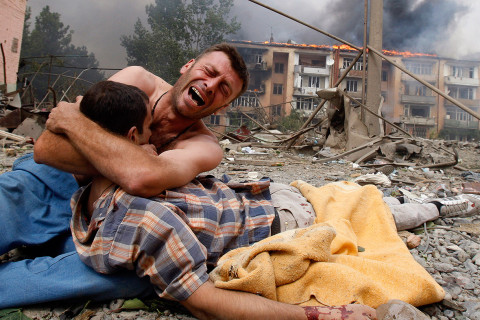 Gleb Garanich: "I was about to head off on a fishing holiday when my boss called proposing that I head off to cover the unfolding conflict between Georgia and Russia. In a matter of hours, I was on my way to the airport and around midnight I landed in Tbilisi.
"Early the next day, I went off to Gori together with colleagues from Reuters TV. In the street, Georgian soldiers were taking the wounded out of apartment buildings or carrying away bodies covered in blankets. I then saw a man in a neighbouring courtyard weeping over the body of his brother.
"Georgian servicemen tried to help him and cover the corpse but he did not let them, hurled his mobile telephone at them and allowed no one to approach the body. He tore off his T-shirt and tried to cover his brother's body with it before sitting on the ground and embracing his brother's corpse.
"Ten minutes later, he was calmed down by neighbours and soldiers took away the body."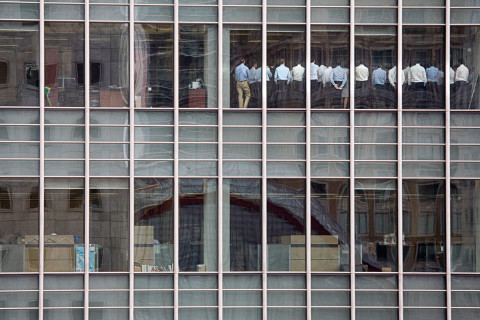 Kevin Coombs: "This is a very simple story. This photo was shot from the fourth-floor newsroom at our offices in Canary Wharf. I was working on the pictures desk when I noticed three or four journalists looking out of the window. This is a busy newsroom and people don't hang around staring out the window so I immediately grabbed my camera and ran across to see what was happening and spotted the Lehman employees.
"I knew Lehman was struggling and I knew that was the Lehman Brothers building. The people lining up is what struck me first but I did not realise the significance of it until I walked back over to the desk and checked our systems which showed the Lehman share price dipping. It became obvious that this was a crisis meeting and at that point I knew this was an important picture.
"The picture has been used over and over to illustrate the beginning of the global financial crash. For me to shoot one of my most used pictures from our newsroom window is quite bizarre, but it proves you only see good pictures when you look around and have your camera ready at all times."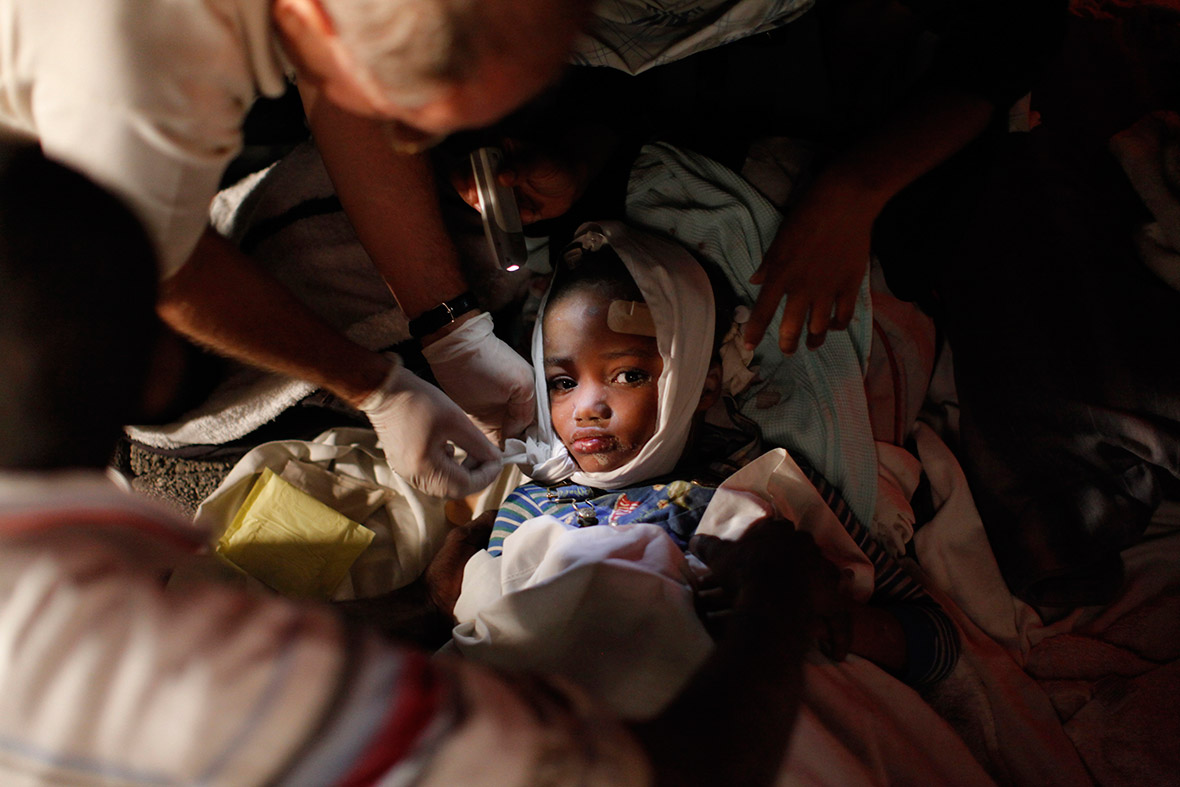 Osman Orsal: "I was covering protests in Istanbul which began as a demonstration against government plans to demolish a small park in Taksim square, but evolved into one the biggest anti-government protests in over a decade.
"I was standing between the protesters and the police as the police began firing tear gas at a close distance. The crowd started to run in different directions, causing chaos. I started shooting and the lady in the red dress was standing right at the front.
"The picture depicts the somewhat unequal struggle between the police and the protesters by showing a police officer firing tear gas from such a close distance towards a woman who had little room to defend herself.
"The popularity of this image became has actually made me proud. It was described as 'iconic' by politicians, artists, writers and ordinary citizens. I have won around a dozen awards and I was and still am humbled by people's appreciation of my work over this picture."