Winds of 75mph were reported as Hurricane Matthew moved across North Carolina and out to sea, leaving a trail of destruction in its wake.
The category one hurricane dropped 20in (50.8cm) of rain as it went, causing flash flooding, power outages and washing away roads.
The US death toll rose to at least 14, after a person drove past a barricade and was swept away into a creek.
The body of the unidentified person was found in the vehicle after it was pulled from the water, according to ABC.
North Carolina Governor Pat McCrory said one of the deaths, in Samson County, was due to hydroplaning, while another two deaths in Bladen County occurred after a vehicle was submerged in flood water.
Six people also lost their lives in Florida due to the storm, while there were four deaths reported in Georgia.
Flooding in Georgia, Florida and the Carolinas left hundreds of roads impassable and families homeless. The National Weather Service measured a record tide level of more than 12ft (3.65m) at the mouth of the Savannah River, which borders both South and North Carolina.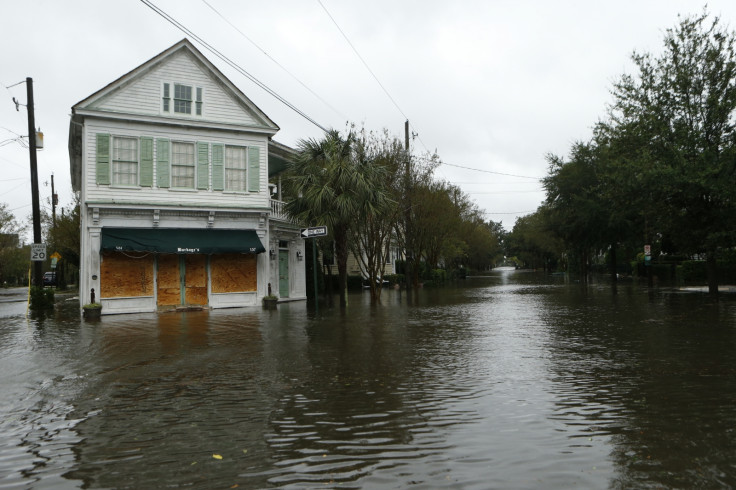 In the coastal Georgia city of Savannah, 85-year-old Sue Alice Walker told CNN she was sleeping in her house when she woke to find water flowing inside. It eventually rose to about three inches.
"First I saw it in the living room, then in the kitchen, and then last it came in my son's room," she said, adding that she spent the rest of the night and much of Saturday morning mopping and shovelling the water into buckets.
South Carolina Governor Nikki Haley warned people to stay in shelters and not to try to go back home over the weekend.
"Between downed power lines and trees, and then just unsafe structures – bridges, all of those things."
Officials said emergency responders have carried out multiple water rescues from cars and homes.
The US National Hurricane Center (NHC) said: "The combination of a dangerous storm surge, the tide, and large and destructive waves caused normally dry areas near the coast to be flooded by rising waters moving inland from the shoreline."
Nearly 1.6m homes and businesses in the south-east of the US were left without power.
Matthew has already caused nearly 900 deaths in Haiti and four in the Dominican Republic as it travelled northwards over the past few days.
Nasa has released a video tracking the storm's development, using data from their Global Precipitation Measurement Core Observatory satellite.
The layers of convection causing the catastrophic winds are clearly visible, as are the bands of precipitation.
"Strong convection caused the storm to intensify," said Dalia Kirschbaum, Nasa scientist, "As well produce the extensive rain bands affecting areas as far as 150 miles around the storm, causing extensive rainfall and flooding in Hispaniola as it progressed northwards."