Hyundai Ioniq Electric review: The electric car comes of age - just ignore that big mouth
It may be lacking in excitement, but the Ioniq gets the job done - it's the everyday electric car.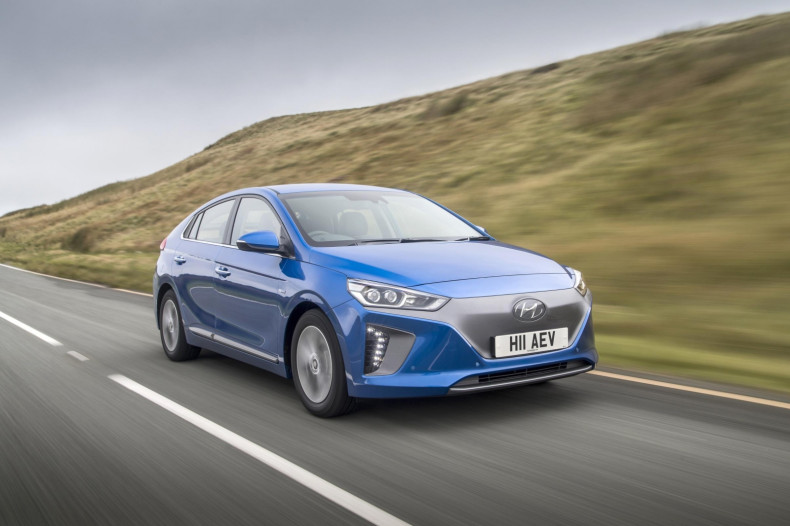 The Ioniq is a long overdue attack by Hyundai on the Toyota Prius and its dominance of the hybrid family car market. But more than that, the Ioniq is also a charge into the plug-in hybrid and all-electric market sectors, being available as it is with three different drive trains.
IBTimes UK will be looking at the all-electric version, which has a claimed maximum range of 174 miles and sells starting at £24,495. The electric version also stands out for having an unflattering filled-in front grille that makes it look like it's is wearing a surgical mask, but otherwise it is broadly the same as its hybrid siblings.
Apart from the awkward front end, the electric Ioniq passes the test for not looking too much like an electric car, in that it doesn't seem to shout too loudly about its planet-saving credentials, unlike the more futuristic-looking BMW i3. The car is recognisably from Hyundai and a sensibly-proportioned five-door hatchback – apart from the bronze detailing in the interior (which we don't mind) and exterior (tacky).
At 4,470mm long, 1,820 wide and 1,450 high, the Ioniq is broadly a similar size to the latest Toyota Prius, the car the Hyundai will be most closely compared to by drivers looking for a planet-friendly five-door hatchback.
Step inside and the "just a regular car" theme continues, without any sign that Hyundai was tempted to visit the Tesla School of Futuristic Interiors and slap a huge touchscreen on a buttonless dashboard. Instead, a more reserved approach sees familiar Hyundai a switchgear and an impressively responsive touch screen sat-nav and infotainment system. Although the user interface isn't perfect, the speed it responds to touches and swipes with is among the quickest we have ever used.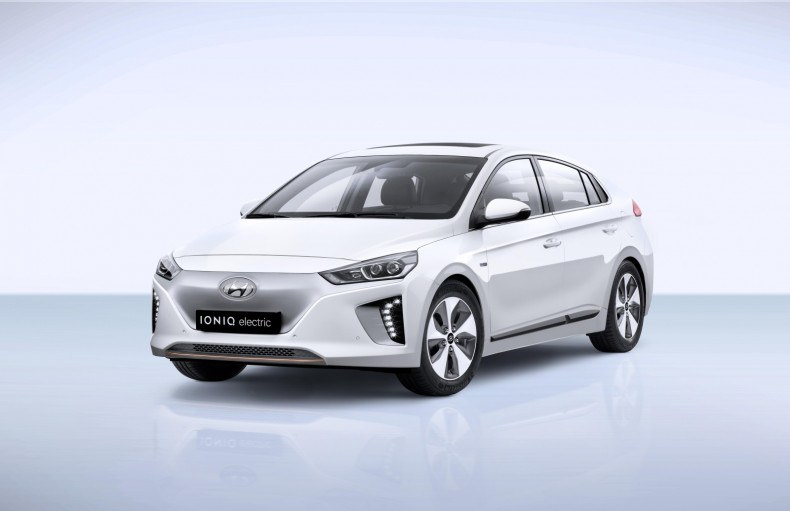 In the Premium SE guise of our review car (£26,295) there is a surprising amount of kit, including radar cruise control, lane keep assist that automatically steers to keep you in lane on motorways, a whole suite of other driver-assistance features and four heated seats.
Bizarrely, the lane keep assist was switched on by default one morning without us pressing the button to engage it. Once realising, however, it was quickly clear that the system (like many others) can't be fully trusted to guide you around any but the most gentle corners. Even if the lane markings are clear and weather is good, the system doesn't exude the confidence of Tesla's Autopilot. A feature to leave switched off for now.
Elsewhere, the Ioniq is very easy to drive, if somewhat uninspiring. The steering is light and performance is just about acceptable, but there's nothing to get especially excited about. Even in Sport mode it lacks the low-speed urgency of other electric cars.
A 0-100km/h (62mph) time of 10.2 seconds (9.9 in Sport) won't set your heart racing, and nor will the 118bhp sent to the front wheels – but such judgement is not even close to what the Ioniq is about. This is a car for people who want something electric, but without the Silicon Valley early adopter feel of a Tesla or mad styling of an i3. They just want a car for getting around, and that's what the Ioniq is.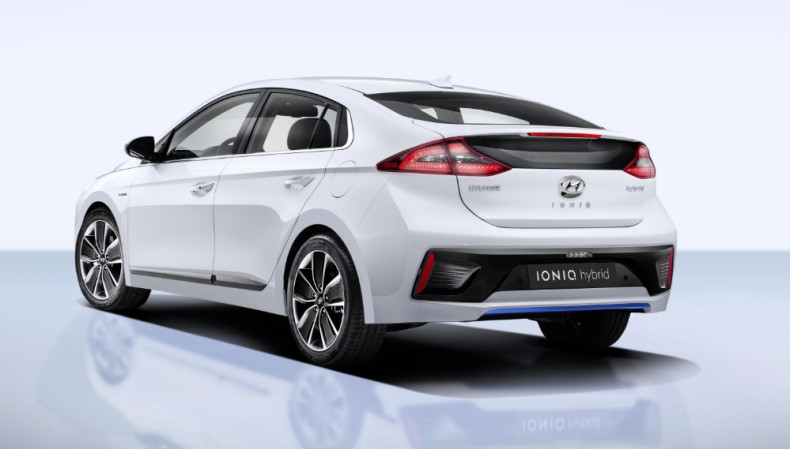 As with other electric vehicles and their range limitations, the Ioniq isn't a car to rely on when you're running late, because going above 60mph quickly depletes the battery.
Town and city driving is where the electric Ioniq feels most at home. Its near-silence and simple operating (press on/off button, press D for drive, press P for park, press on/off button again) help make driving through London more relaxing than normal. The car can be set to recharge the battery with energy lost while slowing down, which has the effect of slowing the car when you lift off the accelerator and makes pressing the brake pedal almost unnecessary until you need to come to a complete stop.
The overall theme of the Ioniq is of a car giving constant but mostly subtle indications of the future of motoring, rather than forcing a major change upon us. The front end shouts "this is the future, look!" a little too loudly for our tastes, but blue interior detailing and a musical chime each time you switch it on and off make us feel like the future we are being treated to is close, not far.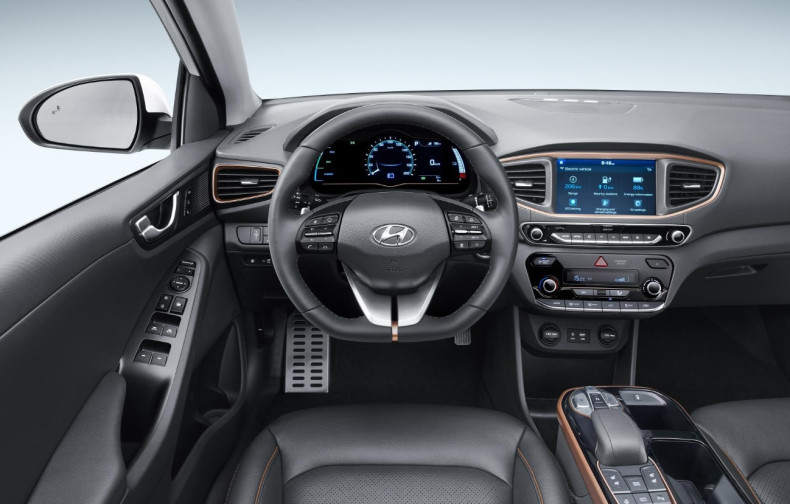 That's also where the next plug socket needs to be, as Hyundai's claims of 130 to 174 miles of range are a little wide of the mark. We began a day of exploring Surrey with an estimated 109 miles remaining, the dial almost full. But instead of falling in line with the distance we drove, it was best to think of it as a percentage of what's left, not a measurement of distance. After 60 miles of almost exclusively gentle driving the car said we had 30 miles remaining, so really we'd advise that 100 is the real-world limit, and to go any further from a charger would be pushing your luck.
Your mileage will (quite literally) vary and the cooler temperatures didn't help, but that's just the lay of the land with electric cars at the moment, Tesla included, just on a larger scale. The lack of chargers, fear of them not working and range anxiety still exist for us journalists because we don't have a charger installed in our garage (or, indeed, a garage), but for drivers seriously considering a move to electric, the situation is constantly improving. Install a charger at home, work or both and as long as the commute is no more than 90-ish miles each way, you will be fine.
Hyundai Ioniq Electric
(7/10)
As for the Ioniq itself, Hyundai has done a good job of making it feel like a normal car. The styling of the front end is fairly offensive, sure, but the rest is perfectly acceptable. This is an electric car which doesn't shout about its green credentials too loudly. It mostly just gets on with the job of being a nice, roomy, five door hatchback which is quiet, comfortable and well-equipped.
Hyundai's adverts make a big deal about how the hybrid, plug-in hybrid and electric versions all look the same, and this, for us, is the right way to go about marketing an electric car. Just as Teslas have a familiar handsomeness to them, the Ioniq stands out for the right reasons, without resorting to being quirky merely for the sake of it. Electric cars shouldn't be treated as a weird, futuristic alternative anymore, and Hyundai knows it. Electric cars will be mass market very soon so, as much as concept car looks are a fun way of attracting early adopters, they may as well start acting like it.
But Hyundai, please, do something about that big, grey mouth.