'I felt the physicality of the sport': Pound-for-pound king Andre Ward explains boxing retirement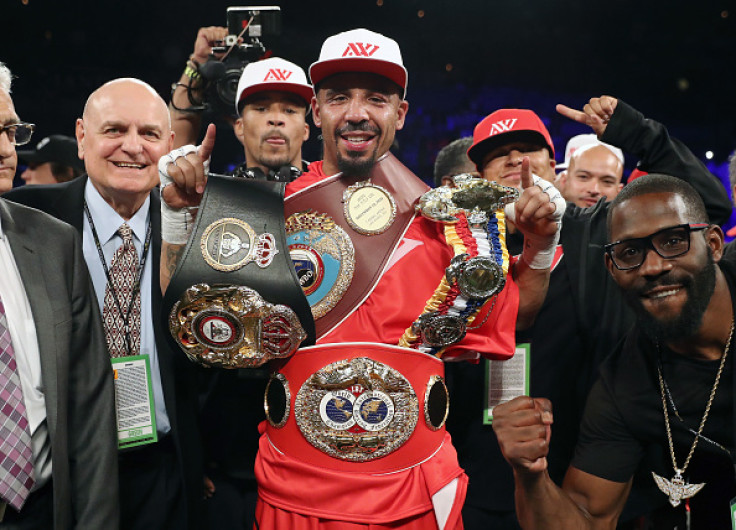 KEY POINTS
Ward retires with a perfect record of 32-0.
The unified light heavyweight champion last defeated Sergey Kovalev in June.
WBA, WBO and IBF light heavyweight champion Andre Ward has shocked the boxing world after he announced on his website that he would be retiring from the sport.
"I want to be clear -- I am leaving because my body can no longer put up with the rigors of the sport and therefore my desire to fight is no longer there," Ward wrote in a statement.
"If I cannot give my family, my team, and the fans everything that I have, then I should no longer be fighting."
Arguably the best pound-for-pound boxer today, the San Francisco native last fought Sergey Kovalev in a June rematch with Ward coming out on top with an eight-round stoppage, albeit by controversial fashion.
His retirement comes as a shock purely because he is still just 33 years of age while he also has the opportunity now to take part in potential super fights with Tony Bellew, Anthony Joshua and Tyron Woodley.
However, Ward later added how grueling the sport could be, not only during a bout but the preparation that goes into multiple 12 round fights.
"People see what I do fight night," Ward said. "They see under the lights, but they don't see the toil, they don't see the grind, they don't see just the pain, the physical pain that you go through, not just in the fights, but to prepare and to get ready for those battles."
"I felt the physicality of the sport -- not just in-the-ring stuff, but the training and the preparation -- start to take its toll on me for the last two or three years, and I bit down and continued to push through. And at this point, it's time, and I know it's time."
According to ESPN, "S.O.G" plans to continue his career as a broadcaster and will resume calling fights for HBO.
Still boasting the distinction of being the last American to win Olympic gold in boxing back in 2004, Ward leaves the sport as an undefeated two-weight world champion with a perfect 32-0 record that includes 16 knockouts.
© Copyright IBTimes 2023. All rights reserved.