Andre Ward has become the latest fighter to throw his name in the hat to face heavyweight champion Anthony Joshua.
Ward (32-0 record in boxing) registered another win over Sergey Kovalev (30-2-1 record in boxing) in their rematch on Saturday (17 June) as he won via an eight round TKO to retain his WBA, WBO and IBF light heavyweight titles.
However, the fight was marred by controversy, much like their first fight in November 2016, as the San Francisco native appeared to have struck Kovalev with successive low blows. With the Russian not protecting himself, referee Tony Weeks stepped in and stopped the fight.
Regardless, Ward is still unbeaten and has staked his claim at being the best pound-for-pound fighter in the world. The 33-year-old has now set his sights on Joshua.
Joshua became the unified heavyweight world champion in April after his 11th round TKO win over Wladimir Klitschko in what was arguably the biggest boxing fight in years.
While light heavyweights (175 pounds) have moved up to heavyweight in the past, the discrepancy may be too much with Joshua (19-0 record in boxing) weighing in at 250 pounds and boasting a 6in height advantage over Ward.
"I always seem to be knocking down giants one by one," Ward said, as quoted on The Times.
"Heavyweight, that's always been a dream of mine. It's got to be against the right guy, but I dream big and anything is possible."
While Ward suggested a move up to cruiserweight (200 pounds) first before embarking on the heavyweight division, his trainer Virgil Hunter, who initially suggested the idea of facing Joshua, thinks he should move all the way up straight away.
"Fighting a bigger man doesn't have to do with size, it has to do with your attributes and their attributes," Hunter explained. "If you are able to single out one thing that makes it a competitive fight for yourself, you take that chance."
"I'd like to see him [Ward] fight Anthony Joshua. I'm not playing, I'm serious. I think it would be a very interesting fight. I know you have a lot of people saying, 'Oh, that would be suicide,' but I believe he could outbox Anthony Joshua.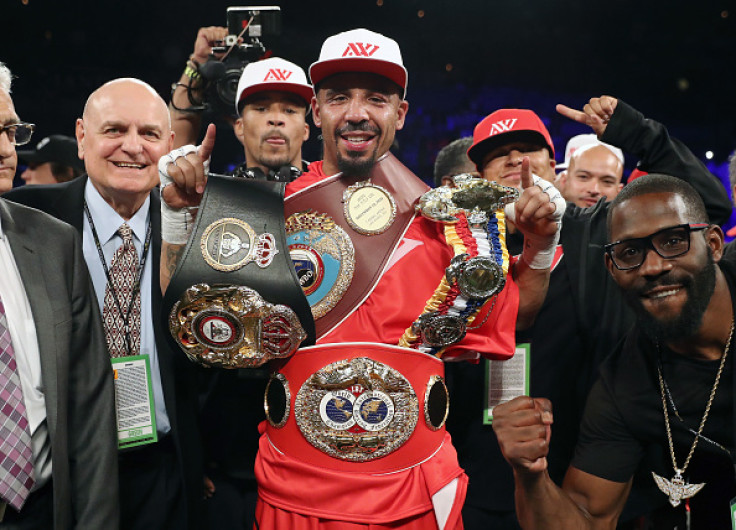 "There's some things about Joshua that I see. He's a good kid, I know him, but I see things with him in particular and he is the best [of the heavyweight champions], but styles make fights. It would be a waste of time to go to the cruisers, we should just leapfrog it, go for it all."
Ward admits he had not even thought of the prospect of facing Joshua until Hunter had suggested it: "He has always been setting the bar high, that is the essence of our team right there. That man will have me believing things that I never even thought of. Like, 'Anthony Joshua, really?' and it will make perfect sense to him. So we'll see."