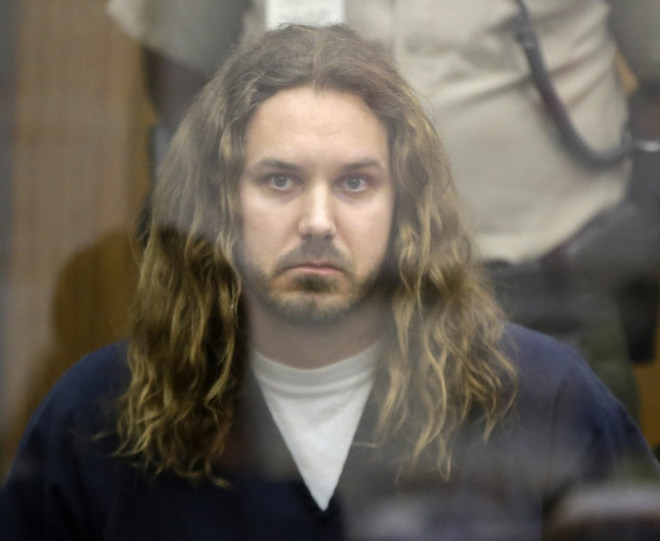 Tim Lambesis, the lead singer of US metal group As I Lay Dying, has pleaded guilty to plotting to hire a hitman to kill his wife.
Lambesis, 33, faces up to nine years in jail after he admitted handing an undercover police officer $1,000 (£600) and instructions to kill his estranged wife, Meggan.
Mrs Lambesis filed for divorce in 2012, claiming he had become emotionally distant, obsessed with bodybuilding, and could no longer be trusted to take care of their three adopted children.
She also learnt the singer was having an affair.
She said he had become irresponsible with money after spending thousands of dollars on tattoos. The prosecution alleged Lambesis wanted his wife killed after she threatened to deny him access to his children after the divorce, as well as seeking a large amount of money in a settlement.
An undercover operation to arrest Lambesis began after his personal trainer told police that Lambesis asked him at his gym if he knew anyone who could kill his wife.
He arranged for the singer to meet an undercover policeman, to whom Lambesis gave the money as well as a list of preferable dates to kill her.
Lambesis originally denied the charges. His lawyer then argued that his client was "devastatingly affected" by steroid use.
He is due to be sentenced on 2 May.
As I Lay Dying formed in 2000 and have released six albums, selling more than one million copies in total.
Their sixth album, 2012's Awakened, was released around the same time Meggan filed for divorce.
Lambesis said in a promotional interview: "On this record, I wasn't purposefully trying to be negative, but I think sometimes we have to be honest with some of the darker and more difficult times of our lives to get back to positivity."
Their 2007 single Nothing Left was nominated for a Grammy for best metal performance.