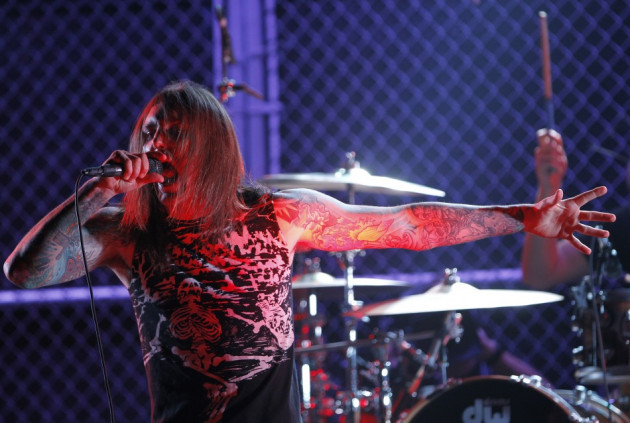 The lead singer of heavy metal group As I Lay Dying has been arrested on suspicion of plotting to hire a hit man to kill his estranged wife.
Tim Lambesis, 32, was arrested at a shop in Oceanside, Southern California on suspicion of attempting to hire an undercover detective to kill his wife Meggan, who is believed to have started legal proceedings for divorce last September.
San Diego County Sheriff's Department said Lambesis, the co-founder of the Grammy nominated band, was arrested "without incident".
Police spokeswoman Jan Caldwell said: "The information came to us late last week. We acted quickly on it. I believe that we averted a great tragedy."
The band formed in 2000 and have released six albums including 2007's An Ocean Between Us, which reached No 8 on Billboard's charts and number 1 on the Top Rock chart in the US.
The five-piece band have sold more than a million albums through the Metal Blade record label.
The band put out its put out its sixth album Awakened in 2012.
They were nominated for Best Metal Performance At the 2008 Grammy's for their song Nothing Left and picked up the Ultimate Metal God gong at the MTV2 Music Awards the same year.
The group describe themselves as Christians, but have previously told heavy metal website Noisecreep that the group wanted "to be judged on the music" rather than their "personal beliefs".
Lambesis has previously discussed their Christian beliefs in an entry on the band's official Myspace page.
He said: "Many of our songs are about life, struggles, mistakes, relationships and other issues that don't fit entirely in the spiritual category.
"However, all of these topics are written about through my perspective as a Christian."
The band are scheduled to tour the US on a series of dates this month.