'I loved my previous life, this is more work than before' says President Donald Trump
Trump, who is completing his first 100 days in office on 29 April, has drawn criticism as well as praise.
A business tycoon for nearly 50 years with a net worth of close to $3.5bn, the 70-year-old Donald Trump, the 45<sup>th president of the US, is about to complete 100 days in the Oval Office, marked by harsh criticism from his adversaries.
While aspiring to lead the most powerful nation in the world, Trump may not have imagined what lay ahead for him in the White House. He said in an interview that he thought the job would be easier than managing a business empire spanning multiple countries, including real estate, television and beauty pageants.
"I loved my previous life. I had so many things going. This is more work than in my previous life," Trump told Reuters in the interview at the Oval Office on Thursday (27 April). "I thought it would be easier."
The former media mogul and real estate tycoon took office on 20 January after winning the 8 November, 2016 presidential election, defeating Democrat Hillary Clinton by a significant margin.
During his first week in office, Trump took the world by storm by delivering on most of his campaign promises – signing executive orders to stop immigrants and build the contentious Mexico-US border wall, imposing a travel ban on seven Muslim-majority nations and so forth.
He drew flak from many countries for ordering a missile strike on Syria earlier in April in retaliation for the latter's alleged chemical attacks on its own people; some nations lauded his action. He is currently dealing with the North Korea threat, amidst warnings against a repeat of the Syria action.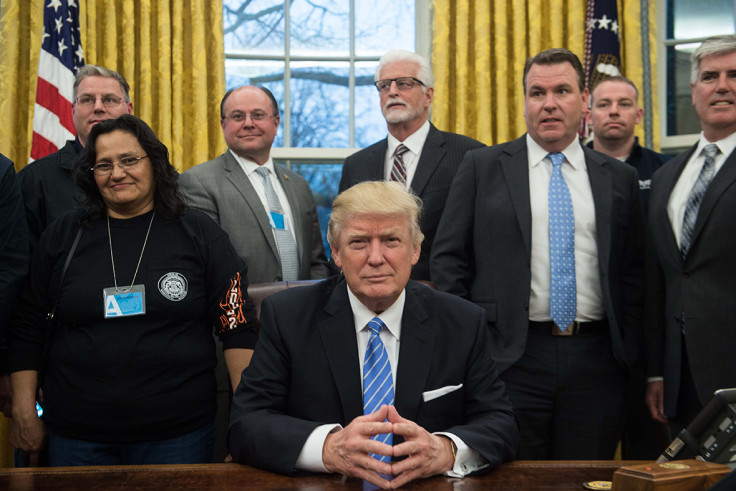 Undeterred by all the criticism, Trump has pressed on with his agenda, on the top of which is "America first".
Due to complete 100 days in office on Saturday (29 April), he recollected his earlier days when he was not surrounded by bodyguards and could drive around all by himself in his fancy cars.
"I like to drive," he said. "I can't drive any more.
"You're really into your own little cocoon, because you have such massive protection that you really can't go anywhere," he said of the 24-hour Secret Service protection for the president, adding that he is still getting used to the new life.
He confessed that although his previous life did not give him much privacy, he was surprised by the even lesser privacy he gets now as the president of the US.
During the four months in office, Trump has made many new friends as well as enemies. He said he still stays in touch with old friends and business colleagues.
Trump, who has been vocal about his dislike for the media and accused many media organisations of circulating "fake news", said in the interview that he will skip the White House Correspondents' Dinner in Washington on Saturday because he claimed he felt he had been treated unfairly by the media.
"I would come next year, absolutely," Trump added.
© Copyright IBTimes 2023. All rights reserved.