Taiwanese President Tsai Ing-wen said there could be another direct telephonic conversation between her and US President Donald Trump, a move that is likely to further annoy China amid already troubled Beijing-Taipei ties.
"We have the opportunity to communicate more directly with the U.S. government," Tsai told Reuters on Thursday (27 April). "We don't exclude the opportunity to call President Trump himself, but it depends on the needs of the situation and the US government's consideration of regional affairs."
The two leaders spoke for the first time in December after Trump's election victory a month earlier. However, the conversation did not go well with China, which reacted angrily and lodged a diplomatic protest with Washington for disrespecting 'one China' policy.
It was the first conversation between the leaders of the US and Taiwan in 37 years. Since the incident, Trump declared to honour 'one China' policy and even hosted his Chinese counterpart Xi Jinping at his estate in Florida earlier in April.
China considers Taiwan as its breakaway province and the relations between the two sides have worsened in the past one year, mainly because of Beijing's distrust of Tsai's pro-democracy party.
Brushing aside China's wariness, Tsai also said that her country might push to include F-35 fighter jets in its first arms deal with the Trump administration.
"We don't rule out any items that would be meaningful to our defence and our defence strategy and the F-35 is one such item," Tsai told Reuters.
It is reported to be the first such public remarks by a Taiwanese official on the subject. There were only speculations about a possible deal between the two countries.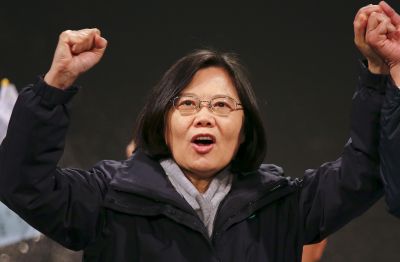 However, China's defence ministry spokesman Yang Yujun warned Taiwan against arms deal with any country on Thursday.
Tsai also said that Taiwan's relationship with the US has been improving in the recent times, while she urged Xi to be flexible with Taipei and act responsibly to maintain peace in the Asia-Pacific region.