Ibrahim Nur was just a child when his family had to flee Somalia for Kenya in 1998. His family waited six years in the sprawling refugee camps on the Kenyan border before they were finally given permission to move to the US and begin a new life.
Now a college student, Nur shares the concerns of many Somalis caught up in Donald Trump's anti-Muslim ban. A close friend who returned from Somalia to Minneapolis last week managed to beat the ban by a single day.
"I worry that I won't get to see my grandparents again, and my aunts and uncles who still live in Somalia," Nur said.
His concerns were shared by many of the estimated 15,000 people who joined a march from the Minneapolis Federal Courthouse on Tuesday against the executive order that blocks entry to the US for citizens from seven Muslim-majority countries in the Middle East and East Africa, and indefinitely suspends entry for Syrian refugees.
While Minneapolis – a landlocked upper Midwest city with a metropolitan population of 3.5 million – seems like an odd place for such an outpouring of support, the mill city perched on the shores of the Mississippi River is home to a diverse population of immigrants and refugees.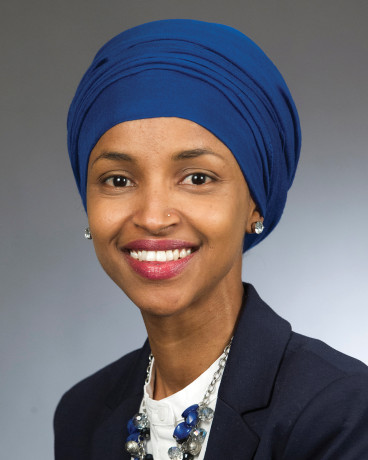 In the early 1990s, Minneapolis received a huge influx of Somalis fleeing a violent civil war that began in 1991 and still rages on today. The Somali population in Minnesota has grown to 25,000, making it the largest Somali community outside of Somalia.
The streets of the Twin Cities of Minneapolis and St Paul are flecked with Somali-owned restaurants, markets and shops, and Somali cuisine has become a local staple. The Somali community has become so integral to the fabric of Minneapolis society that in 2016 activist Ilhan Omar was elected to the Minnesota House of Representatives, becoming the first Somalia-born lawmaker in United States history.
Other Muslim immigrants in Minneapolis said they have experienced tension aggression since Trump's election. Raghda Ellulu Skeik, a Palestinian-born nurse who has lived in the Twin Cities for 16 years, said she faced faith-based harassment for the first time in the US last week.
"I wear a hijab, and I was shopping at my local supermarket, which is literally behind my house, and a guy in a big truck passed me in the parking lot and he started swearing and calling me all these ugly names and words," said Skeik. "I feared for my own safety."
Skeik's daughters, ages seven and 14, have been mocked for their religion at school. Skeik brought her children to the protest on Tuesday to show them "the positive side of the community... that there are people who protect others and call for justice."
Both Nur and Skeik were encouraged by the diverse turnout and the expression of solidarity at the protest and saw it as a positive sign that the Twin Cities accepts diversity.
Though relations with the Somali refugee community are generally viewed as very strong, a September 17 terrorist attack in neighbouring St Cloud, Minnesota, left some residents shaken.
Armed with two knives, Dahir Adan, a naturalized American citizen originally from Somalia, went on a stabbing spree at the Crossroads Center Mall leaving one dead and 10 injured. According to eyewitnesses Adan yelled "Allahu Akbar" during the attacked and asked people if they were Muslim.
Capitalising on the attack, Trump appeared at a late campaign rally at the Minneapolis-St. Paul Airport on 6 November, 2016 and used the September events as a pitch for his plan to ban Syrian refugees.
"Here in Minnesota you have seen first hand the problems caused with faulty refugee vetting, with large numbers of Somali refugees coming into your state, without your knowledge, without your support or approval," said Trump.
But to Meredith Aby-Kiersted, one of the organisers of Tuesday's protest, Trump's remarks in November were a driving force to support Minneapolis' immigrant and refugee communities on Tuesday.
"When Trump came here on a campaign stop, he called the Somali community 'a bunch of terrorists.' He totally demonised this community that is important to Minneapolis. It is important for us to respect and defend out Muslim community members," said Aby-Kiersted. "People in Minnesota know their Somali neighbours and know that they deserve to be here and know that they deserve to be treated with respect."
Minnesota politicians, both local and national, have also come out en masse to show unwavering support for immigrants and refugees in Minneapolis. Minneapolis Representative Keith Ellison – the first Muslim elected to congress – said the executive order "runs contrary to everything we cherish about America".
It's disturbing how cavalier the White House is being with these people's lives
"We've opened our doors to immigrants and refugees from around the world, including Somalia and Sudan, and our community is better for it," he said in a statement on Saturday. "They're our teachers, our doctors, and our small business owners. They're our friends and neighbours. This executive order runs contrary to everything we cherish about America."
Ellison spokesman Isaiah Kishner-Breen reiterated the congressman's statements, telling IBTimesUK that the representative's office has been inundated with calls from immigrant constituents worried about their friends and family, and their ability to travel outside the United States.
"This isn't just politics or policy. This is people's lives," said Kishner-Breen. "It's really disturbing the president's press secretary [Sean Spicer] would minimise people being turned around at ports and being sent back to war zones as minor inconveniences. It's disturbing how cavalier the White House is being with these people's lives."
Minnesota Senators Amy Klobuchar and Al Franken, along with Minnesota Governor Mark Dayton also showed support for local immigrant and refugee communities.
Trump's travel ban denies entry for visa holders from Somalia, Sudan, Libya, Iraq, Iran and Yemen for 90 days, suspends the entire US refugee program for 120 days, and halts the entry of Syrian refugees indefinitely. Scores of foreign nationals were detained over the weekend in airports across the country in violation of the hastily announced order.
Critics of the travel ban, which gives preference to persecuted Christians, claim that the ban specifically targets Muslim and violates the Constitutions. Protests have erupted across the United State in response.
---
Aaron T. Rose is a freelance journalist.
---